NEW DELHI– India's railway ministry on Sunday said three agreements has been signed with Japan during the ongoing visit of Prime Minister Shinzo Abe, including on a loan for high-speed rail link between Ahmedabad and Mumbai using Japan's Shinkansen bullet train technology.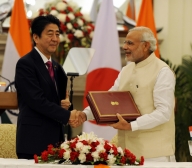 "The (Japanese) loan is for a period of 50 years with a moratorium of 15 years, at an interest rate of 0.1 percent," said a railway ministry statement.
A joint feasibility study for the project was conducted by the Indian Railways and Japan International Cooperation Agency in July this year. The cost of the 505-km corridor is estimated at just under Rs.100,000 crore ($15 billion).
Foreign Secretary S. Jaishankar said on Saturday that the Mumbai-Ahmedabad high speed rail project will be completed in seven years.
Two other partnership agreements with Japan on rail sector will also address many issues including safety, cleanliness and research being faced by Indian Railways for years.
There will be comprehensive technological cooperation with Japan including sharing of information and best practices, exchanges of officials and technicians, conducting joint research and studies, the statement said.
The agreements also envisage cooperation in areas of safety in train operation, advanced techniques of maintenance and use of environment-friendly technologies, among other areas.