MARY, Turkmenistan– Assuring his country's "constructive and cooperative approach" to the project, Indian Vice President Hamid Ansari said on Sunday that the much-awaited TAPI (Turkmenistan-Afghanistan-Pakistan-India) gas pipeline will help integrate economies of South and Central Asia.
"The idea of an economically-integrated South and Central Asia is an idea whose time has come," Ansari said at the ground-breaking ceremony of the ambitious project in this Turkmen city.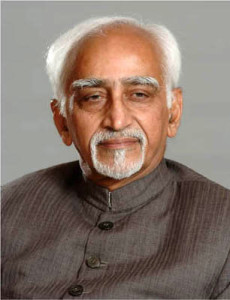 Among others present at the ground-breaking ceremony of the 1,800-km-long TAPI gas pipeline were Turkmenistan President Gurbanguly Berdimuhamedow, Afghanistan President Ashraf Ghani and Pakistani Prime Minister Nawaz Sharif.
Describing TAPI as much more than a gas pipeline project for the four countries, Ansari said that it was a reflection of the common desire of the four member countries to re-connect themselves.
"We are seeking to reclaim our shared geography and revitalise an age-old legacy of our mutually enriching interactions. The launch of TAPI also marks the first step towards fulfilling the vision of an economically integrated region stretching from the Bay of Bengal to the Caspian Sea," he said.
He said the fact that the ground-breaking ceremony was being conducted in the historic Silk Road city of Mary – earlier known as Merv – was entirely appropriate as "it was here, centuries ago, that caravans carrying goods paused to refresh themselves and thereby bestow on generations to come a colourful tapestry of mutually beneficial exchanges".
Thanking President Berdimuhamedow for his "untiring leadership and the strength of your commitment towards TAPI", Ansari also lauded Ghani and Sharif for their active involvement in the project.
"Your strong support for TAPI reflects your interest in securing the economic future of the people of Afghanistan and Pakistan respectively. Your personal commitment to the success of our common venture augurs well for the entire region and for the people of all our countries," he said.
The Indian vice president said India would take a constructive and cooperative approach towards addressing issues related to the TAPI project.
"We are confident that all issues can be addressed through a spirit of mutual accommodation and sharing of costs and benefits," Ansari said.
Conceived in the 1990s, initially Turkmenistan, Afghanistan and Pakistan signed a framework agreement to implement the ambitious project after a meeting in Islamabad in 2002 and the preliminary feasibility studies were done by the Asian Development Bank (ADB).
The Indian government requested the ADB for joining the project as an official member in 2006 and became a permanent member during the 10th steering committee meeting in 2008.
With construction expected to be completed in three years, the TAPI pipeline is expected to last 30 years with a proposed annual capacity of transporting 33 billion cubic metres of gas from Turkmenistan's mammoth Galkynysh field, the world's second largest reservoir of natural gas.