NEW DELHI–Tata Sons chairman emeritus Ratan Tata has invested an undisclosed amount in speciality tea company Teabox, the company said on Wednesday.
The additional capital will help fuel Teabox's growth as it expands in other major markets around the world, said a statement from the company.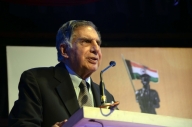 "Ratan Tata needs no introduction for the kind of strategic direction and commitment he brings to the table. We have grown up admiring and respecting his vision and business acumen on scaling the Tata group to a global level," said Teabox founder and CEO Kaushal Dugar.
"His direct guidance and experience in the tea industry will surely help us grow Teabox to be the first global premium tea brand from India," he added.
Teabox sources premium teas directly from plantations in Darjeeling, Assam, Nilgiri and Nepal, and ships them to customers all over the world.
Teabox has already delivered over 30 million cups of tea in over 93 countries.