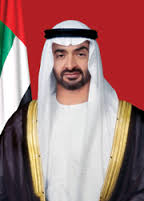 NEW DELHI–In an upshot of Prime Minister Narendra Modi's visit to the UAE, home to 2.6 million expatriate Indians, Abu Dhabi's Crown Prince and Deputy Supreme Commander of the UAE Armed Forces, Sheikh Mohamed bin Zayed Al Nahyan, will arrive in New Delhi on February 10 on a three-day visit.
The crown prince will be accompanied by a high-level delegation, including ministers, officials and captains of industry, an external affairs ministry statement said on Sunday.
The United Arab Emirates (UAE) committed $75 billion to India's infrastructure sector, the highest by any country, during Modi's visit in August last year, the first by an Indian prime minister in 34 years to the Gulf nation.
The UAE's investments will specially focus on railways, ports, roads, airports and industrial corridors and parks, according to the bilateral agreement signed between the two countries during Modi's visit.
"India and the UAE have historically enjoyed close and friendly relations anchored on mutually beneficial commercial exchanges and extensive people to people contacts," the external affairs ministry statement said.
"Our well-balanced bilateral trade amounted to $59 billion in 2014-15, making the UAE our third largest trading partner."
The UAE contributes significantly to India's energy security and was the sixth largest supplier of crude oil to India in 2014-15.
India has vital stakes in the security and stability of the Gulf Cooperation Council (GCC) countries, which host over seven million Indians.
The GCC comprises Bahrain, Kuwait, Oman, Qatar, Saudi Arabia and the UAE.