BENGALURU–To accelerate its industrial growth and socio-economic development, Karnataka is showcasing its resources and strengths for big ticket investments at its fourth global investors meet (GIM) here from Wednesday, Industries Minister R.V. Deshpande said.
"We are pitching for big ticket investments to achieve 12 percent industrial growth per annum over the next five years and create jobs for lakhs of youth in diverse sectors spanning manufacturing, services and agri-business," Deshpande told IANS.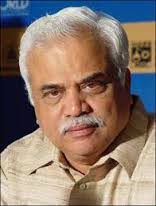 Though the Congress government has been vying with other states to attract investments since its return to power in 2013 after a decade, its attempts to get big ticket investments eluded for various reasons, including lack of support and social infrastructure beyond Bengaluru and delays in clearances.
"To ensure investors explore other cities and regions across the state for manufacturing or processing, we are offering incentives and facilities, besides assuring them speedy approvals for early implementation of their projects," Deshpande said.
"We have lined up mega investment projects across 14 sectors and offering Rs.1 lakh crore worth infrastructure projects under the PPP (public-private partnership) mode for domestic and global investors," he added.
Of the 117 infrastructure projects across the state, 25 pertain to strengthening basic amenities in Bengaluru and easing traffic congestion, parking shortage, skywalks for easy movement of pedestrians on busy road junctions.
"The projects will enable us to provide support infrastructure in cities and backward regions across the state so that investors can choose any place suitable for producing their goods or offering their services," the minister said.
Sector-wise, of the 117 projects, 41 are in transportation, urban & municipal infrastructure, tourism, agri-infrastructure, industrial infrastructure, energy, industrial infrastructure and one each in health and telecom sectors.
Among projects are Devanahalli business park, a 6,000-seating capacity international convention centre near the city airport and light rail transit system across Bengaluru.
Other projects are two National Investment and Manufacturing Zones (NIMZ) at Tumakuru and Kolar, greenfield airport at Shivamogga, airstrips in seven districts and development of 18 stretches of state highways and six ports.