MUMBAI–Prime Minister Narendra Modi will on Saturday inaugurate the Make in India Week 2016 being organised to give further momentum to the initiative, which has seen the country trump the US and China by attracting FDI worth $31 billion in the first half of 2015.
The prime ministers of Finland, Lithuania and Sweden will be among the top dignitaries from across the world who will be attending the Make in India Week being held from February 13 to 18, the Prime Minister's Office said in a statement in the national capital.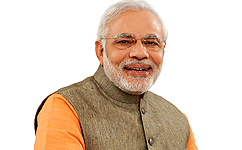 Billed as the biggest promotional effort so far in the country of the government's Make in India initiative, over 1,000 companies are expected to showcase their achievements at the event, which is themed "Innovation, Design and Sustainability".
Around 70 countries will participate in the event, to be held at the Bandra-Kurla Complex here. Among these, Australia is sending delegation of 30 government and business leaders representing a range of expertise in multiple sectors.
The event will also have various states and sectors making a pitch for investments through specially organised seminars.
During the event, America's Time magazine will for the first time give away their Time India Awards selected under the three separate categories of innovation, entrepreneurship and intelligent manufacturing.
US-based Forbes magazine in their latest annual list of the best countries for doing business in 2015 has ranked India 97th out of 144 nations, behind Kazakhstan and Ghana, scoring poorly on categories like trade and monetary freedom and tackling challenges like corruption and violence.
Forbes said that while the country is developing into an open-market economy, traces of its "past autarkic policies" remain.