MUMBAI– Reserve Bank of India (RBI) Governor Raghuram Rajan on Tuesday announced various steps to facilitate the 'ease of doing business' for startups.
Rajan announced a string of initiatives, while announcing the sixth bi-monthly monetary policy review here.
"In keeping with the government's Start-up India initiative, the Reserve Bank will take steps to ease doing business and contribute to an ecosystem that is conducive for growth of start-ups," he said in the monetary policy statement.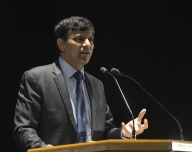 Rajan pointed out that the slew of RBI initiatives will include enabling framework for receiving foreign venture capital, differing contractual structures embedded in investment instruments, and deferring receipt of considerations for transfer of ownership.
The initiatives also consists facilitating 'escrow arrangements' and simplification of documentation and reporting procedures for start-ups, he said.
Besides, the Indian central bank aims to make it easy for start-ups to raise foreign capital and operate in India.
Start-ups across sectors will find it easy to receive foreign venture capital investments and also easily transfer shares from foreign venture capital investors to other residents and non-residents.
The RBI is also planning to permit start-ups to raise rupee denominated loans from foreigners and allow them to create innovative convertible instruments to raise funds.
In addition, it aims to enable startups to issue shares without cash payment through 'sweat equity' or other legitimate payment owned by the company, as long as the payment does not fall into the purview of the Foreign Exchange Management Act (FEMA).
Rajan said RBI is preparing a detailed statement on start-ups to be issued separately.
The start-up India campaign was started by Prime Minister Narendra Modi on January 16.
He had then announced tax rebates for the first three years, exemptions on capital gains, a corpus fund of Rs.10,000 crore and a mobile app to register startups in a day among others.
The central government is expected to bring out more incentives to promote entrepreneurship and startups in the forthcoming budget.