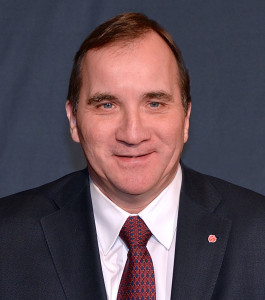 NEW DELHI– Swedish Prime Minister Stefan Löfven will arrive in India on Saturday on a two-day visit to participate in the Make in India Week in Mumbai and also hold bilateral dialogue with Prime Minister Narendra Modi.
Lofven leads a high-level delegation comprising state secretaries, senior officials from the Swedish government, heads of agencies and industry leaders from his country to participate in the Make in India Week which also gets underway on Saturday.
Sweden will have the largest country pavilion in the Make in India Week with participation from 18 companies across various sectors, said a press release issued by the Swedish embassy.
Lofven will inaugurate the Swedish pavilion along with Modi after which he will deliver the keynote address at the 'Sweden Seminar' on smart manufacturing.
Lofven will also participate in the Sweden India CEO Round Table together with industry leaders from the two countries.
The Swedish prime minister will also visit Pune, which is a hub for Swedish companies since the 1960s.
In Pune, Lofven will visit facilities of two Swedish majors – Tetra Pak and Ericsson. The Tetra Pak plant in Pune is a state-of-the-art facility with a modern footprint based on green technology. The Ericsson plant will serve as an export hub for the company.