Hyderabad– Air India on Wednesday signed an agreement for leasing 14 Airbus A320neo aircraft with ALAFCO, a Kuwait-based leasing company.
The delivery of aircraft is likely to start from early next year. The agreement was signed on the inaugural day of India Aviation 2016, the country's largest aviation conference and exhibition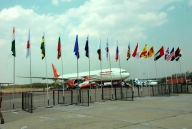 Air India CMD Ashwani Lohani and ALAFCO vice chairman and CEO Ahmad Al Zabin signed the agreement.
"This induction will augment Air India's capacity in domestic market. Air India already has strong infrastructure maintenance facilities for the Airbus A320 family," the state-owned carrier said in a statement.
"This is a very important partnership for Air India. The A320 aircraft will add strength to our existing fleet and enhance our role as a major player in the domestic market," said Lohani.
The A320neo aircraft will come fitted with the new generation CFM leap engines which will reduce noise and emissions, enhance the operational efficiency and reduce fuel consumption by at least 15 percent while offering the passengers the best in class comfort.
Meanwhile, IndiGo displayed its first A320neo on the inaugural day of the aviation show.
The aircraft was delivered on March 11 after a direct flight from Toulouse to Delhi International airport lasting over eight hours, the company said in a statement.
IndiGo, India's largest airline by passenger numbers is Airbus' biggest A320neo customer having ordered a total of 430 aircraft placed in 2011 and 2015.
The A320neo 'new engine option' incorporates many innovations, including latest generation engines and large Sharklet wing-tip devices, which together deliver 15 percent in fuel savings from day one and 20 per cent by 2020. This is equivalent to a reduction of 5,000 tonnes of CO2 per aircraft per year. So far Airbus has won orders for over 4,500 A320neo aircraft.