New Delhi–Food Processing Industries Harsimrat Kaur Badal on Tuesday said the 100 percent FDI in domestic food processing announced in the Budget 2016-17 will lead to creation of infrastructure funded by foreign capital.
"This step will lead to creation of 'swadeshi' infrastructure with 'videshi' money, and will help farmers get remunerative prices for their produce, transfer of technology and modern agricultural practices," she told reporters here.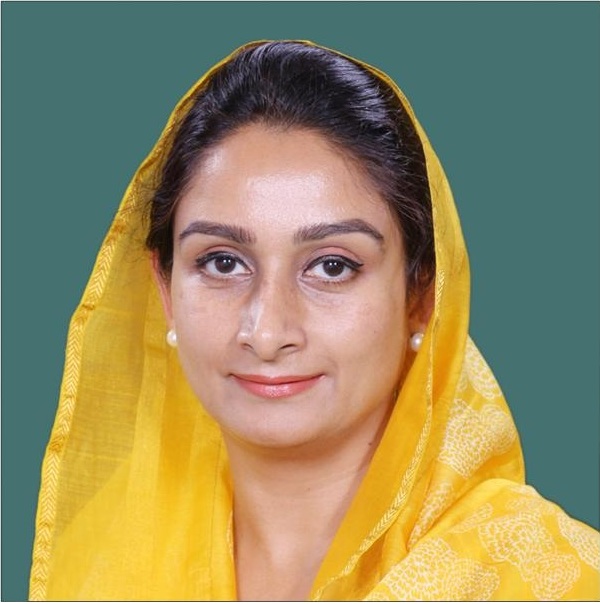 She also said a unified agriculture marketing e-platform will be set up to bring markets to the farmers' doorsteps.
This coupled with 100 percent FDI in marketing of food products produced domestically would result in big buyers reaching out to farmers for their produce, she added.
Last month, Harsimrat Badal had called for fully opening up FDI in multi-brand retail of food products produced and processed in India so as to benefit farmers and reduce inflation.
"I have requested the prime minister that 100 percent FDI in multi-brand retail of those food products which are produced and processed in India should be allowed. So that those big companies can create infrastructure especially for the agriculture sector and bring the latest technology for the farm sector," she said at the eighth Global Food Processing Summit organised by industry chamber Assocham.
She noted that FDI in multi-brand retail has come in the food sector in India, for example, in her home state Punjab.
"It has benefitted everybody, there is no trader in the middle who has lost out, there is no farmer who has lost, no industry has lost out, so it has been a win-win situation and it has been a tried and tested formula," she said.
The minister also said the government plans to open four more mega food parks by the end of the current fiscal.