By Arul Louis

United Nations–Finance Minister Arun Jaitley has called for a tough international fight against the nexus of terrorist networks and drug traffickers that is responsible for decades of attacks on India.
Speaking at a General Assembly Special Session on the drug problem Tuesday, Jaitley said India has "been a victim of cross-border terrorism funded partly by drug trafficking for the last several decades."
"The growing nexus of Drug trafficking and terrorist networks endangers peace, security and stability across regions," he said. "We have to continue and toughen our collective fight against these evils."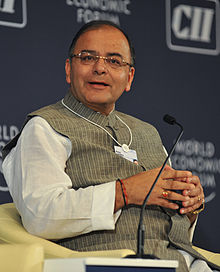 "National efforts, however intense and sincere, cannot adequately deal with the drug problem," Jaitley said. "Bilateral, regional and international cooperation is essential in this area. Our domestic laws contain adequate provisions for such cooperation among judicial and law enforcement authorities."
He said that India is setting up a regional organisation, South Asia Regional Intelligence and Coordination Centre (SARICC) with India, Nepal, Bhutan, Myanmar, Bangladesh, Sri Lanka, and Maldives as founding members, to jointly fight the drug menace.
"India is bordered by two of the major illicit opium and heroin producing regions of the world," he said, without naming Pakistan or Myanmar, to bring home the magnitude of the problem faced by India. That and the drug-terror nexus "has defined our approach to the world drug problem," he added.
"The problems of illicit cultivation of poppy, cannabis and coca crops, multifaceted challenges faced by transit countries and those affected by drug related terrorism should receive particular attention," he said.
He prescribed alternative development as an important aspect of drug control and called for "international cooperation and increased technical assistance and provisions of additional financial resources for developing countries in their fight against the drug menace."
Jaitley warned that recreational use of drugs would only aggravate the problem. There is a trend in some places to legalise use of drugs, but he did not directly mention it.
India is the only country permitted under an international convention to produce opium gum for medical and scientific purpose and export it. Because of this, drugs and narcotics control falls under the finance ministry unlike in most countries.
Jaitley said, "As supplier of licit opiate raw material to the world and traditional licit opium cultivator for centuries, India is fully conscious of its own responsibility to eradicate any illicit cultivation, reduce demand and put in preventive and enforcement measures."
Turning to the problem posed by organised crime, he said its drug syndicates and networks can only be "effectively" busted by disrupting their finances.
Highlighting the direct human cost of the problem, World Health Organization Director-General Margaret Chan said there were 27 million drug users around the world and 400,000 of them died every year.
The Assembly adopted a resolution calling for a comprehensive, integrated and balanced approach to deal with the drug problem. It also said that particular focus should be placed on individuals, families, communities and societies in dealing with the drug menace.
The differences in the approaches to fighting the drug problem came out starkly as western and Latin American countries squared off with Asian and Middle Eastern nations on imposing the death penalty for drug crimes.
The European Union and other countries opposed using the death penalty for combatting drug crimes and regretted that the document adopted by the Assembly on the drug problem was silent about it.
Speaking on behalf of a group countries that execute drug criminals, Indonesia defended the use of the death penalty saying every nation had a sovereign right to decide on its own justice system, taking into account its own circumstances. The group included Singapore, Pakistan, Saudi Arabia, Oman, United Arab Emirates, Qatar, Bahrain and Iran. (IANS)