Washington– India has the potential to grow at a faster pace on the back of healthy monsoon rains, Finance Minister Arun Jaitley has said.
The minister, who is on a seven-day visit to the United States, spoke at an event organised here on Wednesday by the American think-tank Carnegie Endowment for International Peace.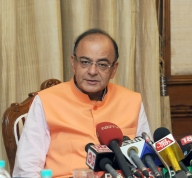 "On 7.5 percent by global standards or by world standards, in the current situation are we doing well? The answer is Yes. But by our own requirement standards are we doing well enough? I think, we can do better," Jaitley said at the event.
"Does 7.5 percent satisfy either the Indian government, me or the prime minister or India's political opinion? The answer is no. I think, by our own yardstick, we realise that we have potential in a helpful environment to do better," he said.
The minister said the Indian economy is estimated to register 7.6 percent growth in FY 2015-16, notwithstanding contraction of global exports and two consecutive years of shortfall in monsoon.
"Amid weaker outlook across the globe, India's experience of strong economic growth, comfortable price situation, low current account deficit, and adherence to fiscal recovery path has projected it as an outpost of opportunity for global investors," he said.
The minister, however, expressed concern over the decline in exports and said the Indian government has taken various measures to mitigate the adverse impact of the global slowdown.
"The fact that in this otherwise globally adverse environment by putting some domestic policies in place, by using investments and surpluses cleverly we have managed to sustain some growth. One of the biggest areas of worry has been the declining exports," he observed.
Jaitley elaborated on the measures taken by the government to perk up the economic growth like reforms in taxation, Make in India programme, increase in FDI (foreign direct investment) limits, expediting the process of granting clearances to new projects and steps taken for ease of doing business.
According to Jaitley, India can achieve a higher growth rate on the back of healthy monsoon rains.
"I have seen in the last two or three days the predictions seem to be much kinder to us this year, and if that were to happen, we are capable of … improving upon our growth rate," he noted.
The minister's comments came in the wake of the India Meteorological Department's (IMD) prediction of above average monsoon on account of receding El Nino conditions.
The IMD said that after two straight years of drought, India is likely to be showered with above average rains during the upcoming monsoon season, with a probability of more than 94 percent precipitation.
The IMD's predictions on monsoon also led to fresh buying in the Indian equity markets. Healthy buying was witnessed in automobile, banking, metal, FMCG (fast moving consumer goods) and capital goods sectors.
The barometer 30-scrip sensitive index (Sensex) of the BSE gained 481.16 points or 1.91 percent on Wednesday.
Similarly, the wider 50-scrip Nifty of the National Stock Exchange (NSE) edged higher by 142 points, or 1.84 percent.
"Several positive factors like forecast of above average rains, healthy expansion of industrial production and a decline in retail inflation have acted as triggers for the equity markets' rise on Wednesday," Anand James, chief market strategist, Geojit BNP Paribas Financial Services, told IANS.
Jaitley, who is on a seven-day visit to the US, reached Washington on Wednesday. During his visit, the minister is expected to attend the Spring Meetings of the International Monetary Fund (IMF) and World Bank, a UN session on the drugs problem, and an interaction with American investors.
The IMF and World Bank Spring Meetings will also be attended by Reserve Bank of India (RBI) Governor Raghuram Rajan and Chief Economic Advisor Arvind Subramanian.
Besides, Jaitley will meet the National Development Bank's board of governors and BRICS (Brazil, Russia, India, China and South Africa) finance ministers and central bank governors during the trip.
On April 15, he will participate in the G-20 session for finance ministers and central bank governors and an event to honour the UN Secretary General Ban Ki-moon for nurturing the World Bank-United Nations partnership.
In addition, Jaitley is scheduled to participate in the Institutional Investors Meet in New York before leaving for India on April 20.