Mumbai–There were no takers for the defunct Kingfisher Airlines' intellectual properties like brand names and trademarks, once valued at over Rs.4,000 crore, at an hourlong auction here on Saturday.
The auction, which started at 11.30 a.m., ended at 12.30 p.m. without notching a single bid against a reserve price of Rs.366.70 crores, said officials.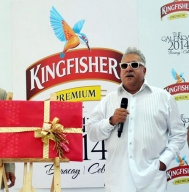 The IPs on the block included the famous Kingfisher logo, its catchy word mark 'Fly The Good Times', Flying Models, Funliner, Fly Kingfisher, Flying Bird Device, which are valid upto January 2017 and November 2024.
This was the second failed attempt by the consortium of lending banks led by State Bank Of India (SBI) to auction Vijay Mallya's IPs after a similar measure to dispose off his movable and immovable assets, including the Kingfisher House in Vile Parle on March 17.
Way back in April 2014, the SBI had invited offers of expression of interest for these IPs from various concerned parties, but the response to the same is not known.
Saturday's auction of the IPs was conducted by SBICAP Trustee Company under the Sarfaesi Act, through an online auction platform, AuctionTiger.net.
As on March 31, 2014, Mallya owes the 17-banks consortium Rs.6.963 crore plus interest which has piled up till date.
Last month, the banks had attempted to auction the 17,000 sq. feet Kingfisher House with a reserve price of Rs.150 crores, and later it tried to sell off the company's vehicles, office assets, aircoditioners, trolleys, tractors, etc., to recover some part of the huge outstandings.
Meanwhile, Mallya, who left India on March 2, has admitted he is staying put in London under a "self-imposed exile".
Mallya's diplomatic passport has been revoked, and a non-bailable arrest warrant has been issued by the Enforcement Directorate in a money-laundering case after he repeatedly failed to honour its summons in past two months.
Amidst reports that Mallya has acquired British citizenship, the central government has initiated deportation proceedings against from Britain. (IANS)