Beijing–Stressing that India will improve upon its 7.6 per cent growth of last fiscal, Finance Minister Arun Jaitley has said the sky is the limit for the country's appetite to draw infrastructural investments.
In an interview to China's English language television channel CCTV, he said infrastructure finance is also one of the main focus areas for the first board of governors meeting of the Asian Infrastructure Investment Bank (AIIB).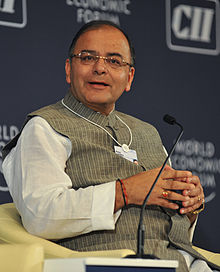 "The potential for investing in infrastructure, urbanisation, housing, power, electricity, water, social sector, for us even today, the sky is the limit. That's the kind of investments we require," Jaitley said in the interview.
"Depending on the kind of finances that are initially available, we would like to see which ones of these projects — some of them could be financed by the AIIBA," he said.
"India has a massive infrastructure programme which is going on. There are programmes of highways, railways, airports, sea ports and also programmes with respect to water suplies, sewages, smart city creation — more urbanisation," he added.
The finance minister said a good monsoon this year will boost rural economy and therefore add to the growth rate of the economy.
"We grew by 7.6 per cent last year, we'll certainly maintain that and with a good monsoon, hopefully improve upon that. It (growth rate) is sustainable for the reason that India still has lot of distance in terms of economic growth to cover," he said.
Jaitley said currently the public finances are taking the lead in infrastructure financing in India, but in due course as the economy picks up, the private sector will also boost it.
Emphasising that India has been the second largest partner in China-led AIIB, he said that these parallel institutions are developing because of the need of infrastructure finance.
"I think it is inevitable that irrespective of the theme of the conference, this issue (infrastructure finance) will dominate all economic discussions," he said.
Even though the new technology industrial revolution is likely to come, in large populated economies like India job growth is also extremely important, he said.
"I think these are inevitable subjects but at the root of it all, the issue is that there is a global slowdown. As to how long will this continue, how does the world pull itself out of the situation, and how does growth return to the world," he said.(IANS)