By Vishnu Makhijani

Book: "She Walks, She Leads"; Author: Gunjan Jain; Publisher: Penguin/Viking; Pages: 556; Price: Rs 799
In spite of a host of Indian women having achieved the pinnacle of their respective spheres, the glass ceiling still exists though it can be shattered — only "they just have to work harder", says debutant author Gunjan Jain of her seminal work tracing the upward spirals of 24 women who have made it to the top.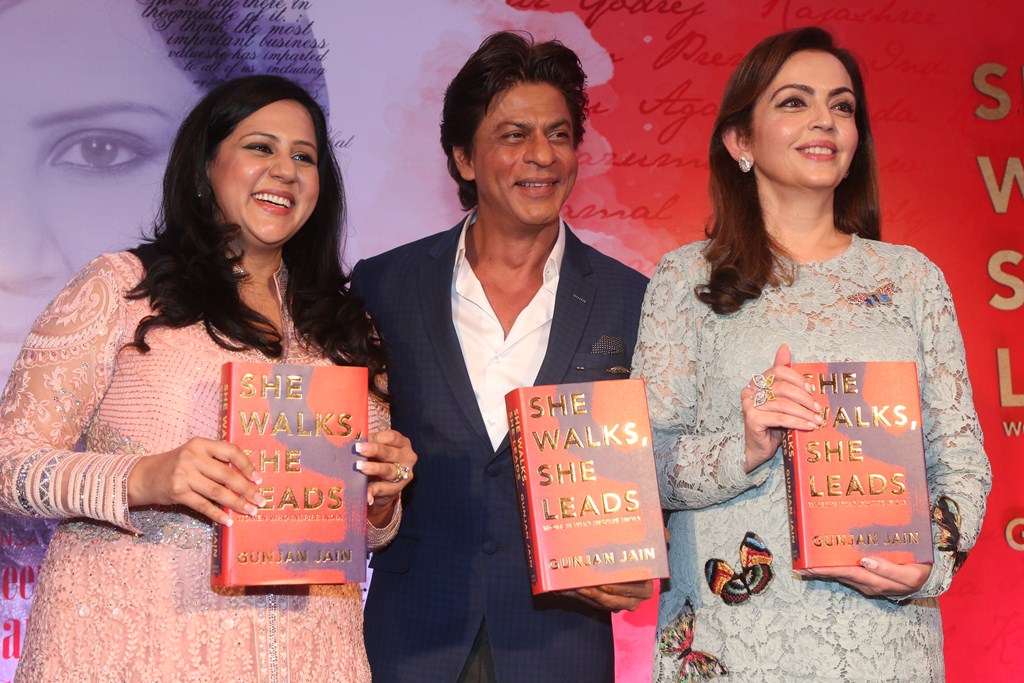 "It (the book) does not mean the glass ceiling is not there; it is very much there but if one has the will, women can shatter it; they just have to work harder," Jain, whose book was released in Mumbai on Thursday evening and will hit the stands in August, told IANS in an email.
"I wanted to document not the successes of successful women but the hard struggles they went through to get to the pinnacle. These are women who succeeded in shattering the glass ceiling, but for most it was not easy.
"Take Kiran Mazumdar Shaw, for instance; despite being eminently qualified, she had to fight patriarchal values at every step — not getting the job she wanted, being refused loans, unable to hire the right people, even being ignored by vendors and suppliers — all because she was a woman! But she overcame these hurdles and look where she is today," said Jain, who has studied in five countries across three continents.
It's an interesting format that the author has chosen, listing the achievers in six categories, their spouses or peers supplementing their efforts and a staggering 130 contributors adding value to the narrative.
Thus, "Altruism & Other Interests" lists Nita Ambani, Rajshree Birla, Sudha Murthy, Yasmeen Premji and Parmeshwar Godrej, while Indira Nooyi, Chanda Kochhar, Arnavaz 'Anu' Aga, Naina Lal Kidwai, Kiran Mazumdar Shaw, Zia Mody and Swati Piramal are profiled in the "Corporate, Banking & Law" section.
"Entertainment" features Priyanka Chopra, Mira Nair, Shabana Azmi and Kareena Kapoor Khan; "Fashion, the Arts & Empowerment" profiles Anamika Khanna, Ritu Kumar and Jyotsna Darda; "Media" is represented by Shobana Bhartia and Indu Jain; and "Sports" rounds off the book with Mary Kom, Sania Mirza and Saina Nehwal.
How then, did these 24 women make it to the top?
"It is easy to imagine that successful people are helped by a special force; that they have a special line of fortune on their palm, which ensures their success from birth. But that's not true and it would be naïve to believe so," Jain writes in the Introduction.
She then lists the seven steps to success: swim against the tide, get out of your comfort zone, stay positive, never be complacent, be an eternal student, mentor and be mentored, cultivate a social conscience and strike a balance.
Anyone with even a nodding awareness of the 24 women featured in the book will agree that they have these qualities and more in abundance.
In the bulk of the cases, the spouses have written about their wives but there are some interesting pairings.
"If you look carefully there are commonalities that make the pairings obvious… it evolved as I went along. For instance, Indra Nooyi and Ajay Banga, besides being friends are two of the world's top CEOs of Indian origin. Mary Kom and Priyanka were a logical outcome (of the biopic on the boxer featuring the actor), so were Ritu Kumar and Rajeev Sethi, who belong to the same profession.
"Shobhana Bhartia and Sanjeev Goenka are from prominent business families of Calcutta (Kolkata), Saina Nehwal and Sachin Tendulkar are at the top of their respective sports. What is interesting is Anu Aga/Ashok Ganguly. My original plan was Anu's daughter Meher Pudumjee but after my interview with Dr. Ganguly, I found he had talked about certain things that gave a whole new dimension to Ms Aga's character and I would be losing out these nuances using his quotes within the text. So that's how they came about," Jain explained in the email.
What of the future? Considering the research that has gone into the present work, will there be a Part II and more?
"No, not of this book, definitely. But I'm already working on other projects and this experience will come in handy," Jain signed off. (IANS)