New Delhi–The country's higher education policy should be directed towards ensuring quality education for all, greater incentives for research and also be made attractive to bring in more foreign students, HRD minister Prakash Javadekar said here on Thursday.
"We must attract foreign students…..to be a part of the whole global culture is education by itself," Javadekar said in his reply to a four-hour long debate in the Lok Sabha on the National Institutes of Technology, Science Education and Research (Amendment) Bill, 2016.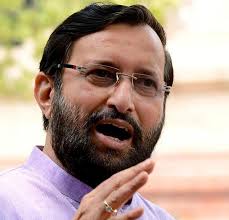 The bill, which seeks to establish the National Institute of Technology (NIT) in Andhra Pradesh as an institute of national importance, was later passed by the house.
Laying emphasis on research and innovation, he sought to make it clear that "mere compilation" should not be considered a Phd.
"The Narendra Modi government is committed to ensure Sabko Shiksha aur Acchi Shiksha (Education for all and Quality Education)," Javadekar said.
Stressing on the role of research, he said several schemes are being evolved to promote research especially among technological institutes.
A separate funding of Rs 1000 crore will be made for this, he said adding under this "customized research" of industries will be encouraged wherein academicians from NITs and IITs and other such technological institutes will be involved.
"We will encourage more incubation centres and under which even after graduation NIT and IIT pass outs and graduates can also be allowed to visit their institutes and take part in research," Javadekar said.
He said the government is keen to provide up to Rs 20,000 crore for upgradation of all kinds of infrastructure.
"I have already mandated that 40 per cent of that money should be invested in improving the research infrastructure. It is not about roads, buildings and staff quarters; it is basically about improving the research infrastructure," Javadekar emphasized.
Stating that education should be "beyond politics", the HRD Minister said: "We should all resolve to work unitedly to improve education."
Earlier, Congress member Shashi Tharoor said instead of increasing the number of national institutes, the government should focus on improving its quality and pump more funds.
He said there is a problem in higher education system and added that often Tata and Infosys appoint candidates from engineering colleges and again put them for training.
Visakhapatnam MP Kambhampati Haribabu (BJP) rejected Tharoor's views and said the government has not taken the decision to start NIT, Andhra Pradesh in haste.
Among others Trinamool Congress member Sugata Bose, Biju Janata Dal's Baijayant Panda, AIADMK's M Thambidurai, Telugu Desam Party's M Srinivasa Rao, SDF's Prem Das Rai, RLSP's Arun Kumar (RLSP), AIUDF's Badruddin Ajmal, Congress' Adhir Ranjan Chowdhury (Congress) and RSP's N.K. Premachandran also spoke in the debate. (IANS)