New Delhi–The government on Thursday announced that the fourth tranche of its sovereign gold bond scheme will open on July 18.
"Applications for the bond will be accepted from July 18, 2016 to July 22, 2016. The bonds will be issued on August 5, 2016," a Finance Ministry statement said.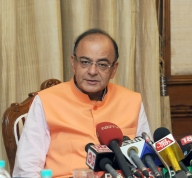 Finance Minister Arun Jaitley had in last year's Union Budget announced developing the Sovereign Gold Bond, as a measure to contain demand for the metal in physical form. In Budget 2016-17 he has proposed that redemption of sovereign gold bonds by an individual be exempt from capital gains tax.
The bonds will be sold through banks, Stock Holding Corporation of India Ltd (SHCIL), designated post offices and recognised stock exchanges, the statement said.
The government received subscriptions of Rs 726 crore for 2,790 kg gold under the second tranche of the scheme in January, while the first tranche launched in November had received a subscription for 915.95 kg of gold worth Rs 246 crore.
In March, the third edition of thescheme, a component of the government's market borrowing programme, received a poorer response getting subscription of 1,128 kg gold, amounting to Rs 329 crore.
The gold bonds are issued in denominations of 5 grams, 10 grams, 50 grams and 100 grams for a term of 5-7 years with a rate of interest to be calculated on the metal's value at the time of investment. The scheme has an annual ceiling of 500 grams per person. (IANS)