By Porisma P. Gogoi

Mumbai– Indian equity markets took a breather and consolidated the gains with substantial amount of foreign funds inflow during the week ended Friday, even as weak global cues prompted investors to book profits.
The two key equity indices — the sensitive index (Sensex) of the BSE and the Nifty of the National Stock Exchange (NSE) — rebounded on value buying after being through a volatile trading week and closed with minimal losses.
The 30-scrip Sensex closed the week's trade flat, with a marginal loss of 33.26 points or 0.12 per cent at 27,803.24 points.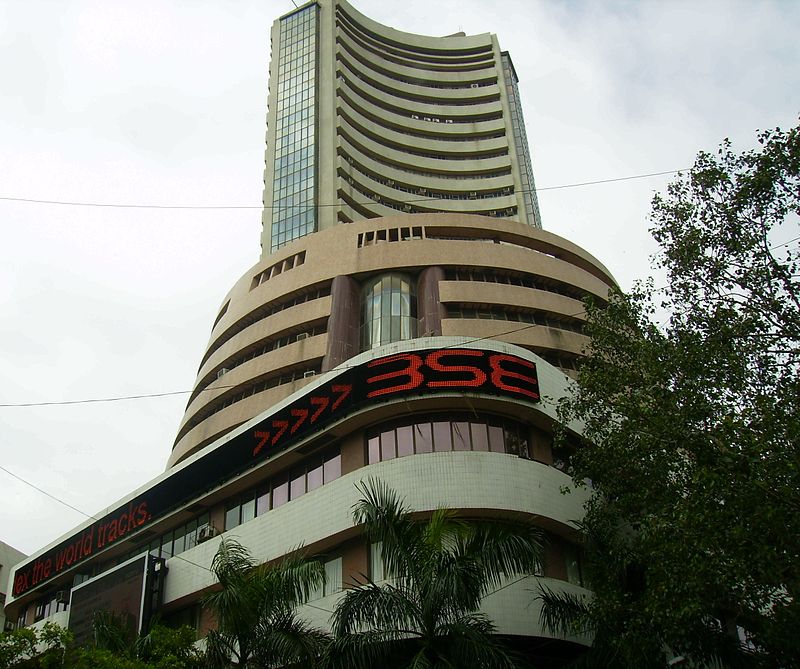 Similarly, the 51-scrip NSE Nifty also closed flat at 8,541.20 points — down a tad 0.20 points.
"It has been a sedate week for the Indian stock markets, with benchmark indices trading range-bound during the week," Brijesh Ved, Senior Portfolio Manager, BNP Paribas AMC, told IANS.
"However, despite a sideways moving market, institutional activity during the week has been robust with foreign institutional investors (FIIs) being net buyers and domestic institutional investors (DIIs) being net sellers in all the trading sessions during the week."
The benchmark indices had a frail start to the week as gloomy quarterly results subdued the risk-taking appetite of investors leading them to book profits.
On the global front, the markets traded higher but amidst volatility, as investors digested a number of geopolitical events in the European region. However, positive bias was partly infused into the markets after better-than-expected Chinese economic data was released, which gave credence to the government's efforts to stabilize growth in the economy.
Moreover, the Indian markets traded with blended sentiments on the back of mixed domestic cues, such as the government's announcement of a healthy round of capital infusion in state-run banks and a disappointing decision that oil producers would have to pay royalty to crude oil producing states at pre-discount rates, leading to an erosion in investors' sentiments.
Some positive momentum was noticed in the markets after global credit rating agency Fitch Ratings on Monday affirmed India's long-term foreign and local currency issuer default ratings (IDR) at "BBB-", leading to a slight spurt in value buying.
However, upcoming risks of global events, such as reduced chances of further monetary policy easing by the European Central Bank (ECB) in its monetary policy review and lower growth forecast for India by the International Monetary Fund (IMF) due to sluggish recovery in private investments, disheartened investors.
Although the key indices tried to recover on the back of value buying, marginal recovery in global markets, healthy progress of monsoon season and a firm rupee, the upward trajectory was hampered by profit booking, disappointing quarterly results and weak global crude oil prices.
Nevertheless, a couple of other domestic cues that included short covering and reinforced hopes on the passage of the GST (Goods and Services Tax) bill in parliament's ongoing monsoon session, supported by continued inflow of foreign funds, supported prices at the lower levels and kept the markets buoyant.
"Markets remained buoyant as a good monsoon season so far has lifted hopes of a revival in farm output and incomes, which in turn is likely to give a fillip to consumption," Ved added.
"Indian markets will continue to take cues from the developments during the monsoon session, along with the quarterly results. Participants are likely to keep their ear to the ground with respect to the dialogue on the passage of the GST bill and any developments on this are likely to impact investor sentiment."
According to Vinod Nair, Head of Research, Geojit BNP Paribas, the markets opened on a weak note due to subdued quarter one (Q1) results as well as weak global cues.
"The Nifty index stuck at a range of 8,500-8,600 levels for the whole week, which indicated indecisiveness. But positively, the midcap and smallcap indices continued to outperform with one per cent gains for the week," Nair said.
"After the tepid start, the main index (Sensex) held up to gains of previous week owing to better Q1 results in the later part of the week by some large caps in banking, FMCG (fast moving consumer goods), and oil and gas. Additionally, greater expectation on the passage of GST supported the market."
Sector-wise, the BSE oil and gas index was up 2.51 per cent, the healthcare index was up 1.91 per cent, and the automobile index was up 1.09 per cent.
On the other hand, the telecom index was down by 1.91 per cent, the banking index was down 1.58 per cent and consumer durables index was down 1.22 per cent.
Among the individual Sensex stocks, Coal India was the top gainer (up 3.39 per cent at Rs 330.50), followed by Tata Consultancy Services (up 2.75 per cent at Rs 2,509.15), Tata Motors (up 2.74 per cent at Rs 506.40), Sun Pharmaceuticals (up 2.25 per cent at Rs 787.75) and Adani Ports (up 2.14 per cent at Rs 224.50).
The losers were led by Axis Bank (down 4.82 per cent at Rs 537.55), Hindustan Unilever (down 3.91 per cent at Rs 902.90), State Bank of India (down 3.48 per cent at Rs 223.45), ONGC (down 3.47 per cent at Rs 222.45) and Wipro (down 3.10 per cent at Rs 537.45).
The week witnessed an appreciable influx of foreign funds. Provisional figures from the stock exchanges showed that FIIs purchased stocks worth Rs 2,222.20 crore.
Figures from the National Securities Depository (NSDL) showed that foreign portfolio investors were net buyers of equities worth Rs 5,235.42 crore, or $780.63 million from July 18-22.