Shimla– A World Bank-funded Himachal Pradesh Horticulture Development Project is being implemented in the state with an outlay of Rs 1,115 crore, mainly to protect apple cultivation, a government spokesperson said on Sunday.
The project spread over seven years would focus on providing new technologies to horticulturists for increasing crop productivity and capacities.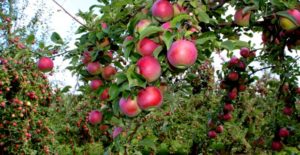 To protect the fruit crop, mainly from the hailstorms, the state government has increased subsidy on anti-hail nets to 80 per cent.
The spokesperson said for strengthening marketing facilities, 10 fruit yards and collection centres have been made operational in the state in the past three and a half years with an expenditure of Rs 27.45 crore.
Himachal Pradesh is one of India's major apple producing states, with more than 90 per cent of the produce consumed in the domestic market.
Himachal Pradesh's fruit economy is worth around Rs 3,500 crore a year, with apple alone contributing 89 per cent to this figure, mostly in Shimla, Kullu, Mandi, Lahaul and Spiti, Kinnaur and Chamba districts.
A Horticulture Department official said growers are taking to apple plantation on a large scale even in the remote district of Lahaul-Spiti.
Overall area under apple cultivation has increased to 1,09,553 hectares in 2014-15, he said.
He said the government has started weather-based crop insurance scheme to protect growers' interests.
Initially, the scheme was launched in six blocks for apple crop and four blocks for mango crop. The coverage under the scheme has since been extended in view of the scheme's popularity.
In the last fiscal, the scheme was implemented in 36 blocks for growing apple, 41 blocks for mango, 15 blocks for kinnow, 13 blocks for plum and five blocks for peach crops.
In addition, 17 blocks have been covered under add-on cover scheme to protect the apple fruit crop from hailstorms.