New Delhi– Parliament on Tuesday passed a bill that provides for confiscating 'benami' (proxy) assets, with the Rajya Sabha on Tuesday giving its assent to the legislation.
The Benami Transactions (Prohibition) Amendment Bill was passed by Lok Sabha on July 27.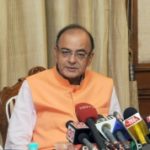 "This bill is meant to stop black money… The lawmakers should have a clear perspective on black money. It is true there is black money both in India and abroad. To stop black money there should be fear of law, and at the same time there should be an eye of where the black money is generated and where it is spent," said Finance Minister Arun Jaitley in his reply to the debate on the bill.
Jaitley, in the course of his reply, also sought to remind people that the government's scheme for income disclosure is on, and September 30 is the deadline.
The bill, which seeks to establish adjudicating authorities and an appellate tribunal to deal with benami transactions as well as specify penalty for entering into benami transactions, is part of measures planned by the government to tackle the problem of black money. (IANS)