New Delhi–BJP MP Subramanian Swamy on Friday wrote to Prime Minister Narendra Modi seeking a multi-agency probe against Tata Sons Interim Chairman Ratan Tata for alleged money laundering and cheating.
Swamy said a Special Investigation Team (SIT) consisting of the Central Bureau of Investigation (CBI), Enforcement Directorate (ED) and the Securities and Exchange Board of India (SEBI) should be set up for the probe.
Citing ousted Tata Sons' Chairman Cyrus Mistry's recent letter to the company directors, Swamy alleged that four grievous criminal offences were committed by Ratan Tata in various deals.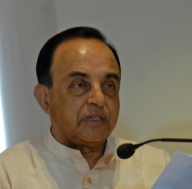 "The commission of offences are under Sections 120-B (conspiracy), 403 (dishonest misappropriation of public funds), 405 (criminal breach of trust) and 415 (cheating) of the Indian Penal Code, prima facie documented in Mistry's letter," wrote the Rajya Sabha member.
"Hence, I urge you to direct the setting up of an SIT consisting of the CBI (for criminal offences), ED (for money laundering) and SEBI (for violation of fiduciary and company laws) and prosecute Ratan Tata with full vigour and without interference from anyone in the government to protect Tata," said Swamy.
He also cited his June 2014 letter to Modi, wherein he alleged "fraud by Tata as Indian partner in AirAsia and Vistara Airlines". (IANS)