New Delhi–Former Union Finance Minister and senior Congress leader P. Chidambaram on Wednesday said the Centre's decision to demonetise Rs 500 and Rs 1,000 notes and introduce Rs 2,000 notes was a "puzzle".
Though supporting the demonetisation move, Chidambaram said how the government implemented its decision will decide whether it is a wise one or not.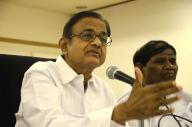 "They demonetized Rs 500 and Rs 1,000 notes and introduced Rs 2,000. It seems to me a puzzle. Let the puzzle be unravelled by the government," Chidambaram told the media here.
"If the government was introducing Rs 2,000 note by itself, that would be a different matter. What I don't understand is why they demonetised Rs 500 and Rs 1,000 and introduced Rs 2,000 note. Maybe, it's my inadequacy," he added.
Chidambaram said: "If they give us a good reason, maybe we'll be convinced."
"I have thought about it and have spoken to a few people. Even they are unable to understand why the government did this," the former minister said.
"How will this move help in preventing the generation of black money? If new income or wealth is unaccounted, will not that income or wealth be stashed away in Rs 2,000 notes?"
"How is demonetisation of high denomination notes going to serve the purpose if a new and higher denomination note is introduced? The government must explain this apparent puzzle," asked Chidambaram.
He said he is worried about the timing as so many marriages are lined up.
"Somewhere, I read that some 40,000 marriages will take place in Delhi in the next few days. The period between November 15 and December 15 is expected to witness some five million marriages all over the country," said Chidambaram.
"… how the government handles it, I do not know," he added.
The former Finance Minister stressed that 99 per cent people are holders of legitimate/accounted money and the government must "quickly, efficiently" exchange their old currency of higher denomination without causing any harassment.
He said if housewives, students and small traders are made to fill up bank forms, it'll be pure harassment, and the Congress will condemn it.
Chidambaram said the decision must be seen in the background of "undisputed facts and data".
"In 1978, the Janata government demonetised high denomination notes. That action failed to achieve its objectives. High denomination notes were re-introduced shortly afterwards and the volume of unaccounted wealth and income admittedly increased," he said.
On whether demonetisation will prove a game changer, Chidambaram said: "… I think the consensus has been that the economic gains may be very small but disruption and public inconvenience may be very large."
He said unaccounted wealth and money is largely invested in construction, real estate, bullion, jewellery and securities.
"I have no first-hand information about how much is stashed by way of hard cash. Only the government can answer that question. I am concerned about 98 or 99 per cent of people who are entitled to exchange their old notes," the Congress leader said. (IANS)