New Delhi– Union Finance Minister Arun Jaitley on Saturday asked representatives of industries and trade to increase private investments, especially in the infrastructure sector.
Holding his fourth pre-budget consultative meeting for the union budget 2017-18 with industries and trade representatives, Jaitley said that in the first half of the current financial year 2016-17, the Indian economy achieved a robust growth rate despite volatility and uncertainty in global economy.
"This was made possible by a slew of policy measures undertaken by the present government including enhanced public investment, kick-starting stalled projects, improving the status of financial inclusion significantly among others," an official statement quoted him as saying.
He also said that the government took many steps to improve governance by bringing in transparency and efficiency through systematic changes.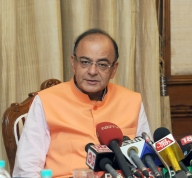 According to the minister, the government gave "greater thrust on fiscal federalism and improving business environment through reforms in policies and regulation among othersa.
Industry associations and groups recommended the reduction in corporate tax and withdrawal of tax incentives which will result in higher collections due to better compliance and will make India an attractive investment destination.
Other suggestions include complete elimination or a major reduction in minimum alternate tax (MAT) and higher public investment in infrastructure and social sector.
They also sought higher investment in irrigation and rural infrastructure sector as this will increase the spending capacity of the rural people which in turn will create demand for various items and increased economic activity.
Their suggestions included focus on skill development by focussing more resources on training of trainers' Programmes.
The industry lobbies also pitched in for the minimum exemption limit in case of personal income tax to be raised to Rs 5 lakh. They also sought reduction in interest rates for manufacturing and other sectors especially for micro, small and medium enterprises in view of higher funds available with banks after the demonetisation.
Another suggestion was made to make instrument of cheque more stronger especially after demonetisation by blocking the amount of cheque in the drawer's account and making amendments in Sec 138 of Negotiable Instruments Act for heavy penalty in case of bouncing of cheques, a statement added. (IANS)