After raising $1 million just with an idea, Kash Shaikh's Besomebody set to launch Learning Paths
BOSTON—Inspiring oneself is great, but inspiring others is better, and then raising $1 million just with this simple idea is probably the best thing that can happen to anyone. Well, this is what had happened to Kash Shaikh, who had traveled to 43 countries for Procter and Gamble and was thinking about what to do next.
This week IndUS Business Journal talked to Shaikh about #besomebody, a company that he founded and started out as just an inspirational hash tag and evolved into a fully funded company.
#Besomebody raised one million dollars in seed funding without having a product, just an idea of inspiring people to follow their passions. Now #besomebody has an app that is an experience marketplace where hosts (known as Passionaries) make money teaching their passions to others who share the same passion, but need to get more experience.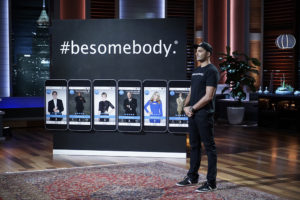 #Besomebody Passionaries made $100,000 from experiences in its beta. The #besomebody content reaches more than 10 million people from around the world and from all walks of life. #Besomebody was also featured on reality T.V. show Shark Tank on November fourth.
In February 2017, #besomebody will be starting a new part of the company called Learning Paths. This a vocational program to help people get the training they need to succeed.
Shaikh says that college students are graduating with loads of student debt, but not the essential skills and training they need to get the jobs they desire, and says that the Learning Paths will help them gain those skills.
Shaikh's journey began while leading social marketing for Proctor and Gamble in developing countries, where he was on the road eighty percent of the time, traveling to 43 countries. The people he met on his travels changed the way he thought about the world, helping him realize that people are similar across cultures, and he started writing about it, and then sharing it on social media.
Shaikh needed a change of scenery so he left P&G for camera powerhouse GoPro, where Shaikh says he learned that content can build your brand for you. He became the first person to resign from GoPro leaving 75 percent of his stock on the table, to follow his passion. He went around to schools all over the country talking about #besomebody and hoping to inspire young people to follow their passions and desires.
Now based in Boston, Shaikh hopes to continue growing the #besomebody brand and helping people follow their passions.
Shaikh was born and raised in Houston, Texas, and attended the University of Texas, Austin. He says that since high school he has always enjoyed creating things. When asked who his biggest influences were he said "take advice from three people; people who love you unconditionally, people who are in the trenches with you, and people who have done what you are trying to do."