New Delhi–Micro-blogging website Twitter's India head Rishi Jaitly on Tuesday took to Twitter to announce that he has quit the company.
"Today, after 4 years of user/business momentum in India & the region, I'm sharing my intention to move on to new opportunities, same mission," Jaitly tweeted.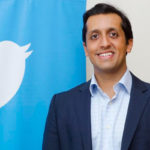 Jaitly drove strategic partnerships with the news, government, entertainment, sports, TV industries, and others in the mass and emerging media landscape.
Jaitly was the Vice President of Twitter's Asia Pacific and Middle East North Africa business. He will leave the company at the end of November after four years of service.
"Building/leading @TwitterIndia, and expanding @TwitterMedia across Asia Pacific & Middle East, was the leadership experience of a lifetime," said Jaitly in another tweet.
He joined Twitter from the Knight Foundation where he led investments in technology, media, and digital tools.
In a series of tweets, he said that "personal/civic calling" takes him to Chicago, US.
"I myself care deeply about the United States, India, emerging markets & intend to devote myself to building bridges in service of my mission," Jaitly said.
"My mission remains the same: harness tech/media's scale to connect users/citizens to their voice/agency/leadership in places they care about," he tweeted.
Jaitly said he will also spend significant time in India/Asia, "drawing on my past to further tech's promise".
In a bid to realign its future goals and cut costs, Twitter recently reduced nine per cent of its workforce (nearly 350 people) globally.
"We have a clear plan, and we are making the necessary changes to ensure Twitter is positioned for long-term growth," CEO Jack Dorsey said in a statement earlier.
Last year, Twitter cut 300 jobs after Dorsey took over as CEO full-time.
Twitter had 3,860 employees as of June 30 this year and paid out $168 million in stock-based compensation in the second quarter.
Earlier this month, Twitter's last potential buyer Salesforce decided not to make a bid to buy the micro-blogging website.
Salesforce CEO Marc Benioff told the Financial Times that he has "walked away" from making a bid to buy Twitter.
Earlier, Google, Apple and Walt Disney also decided not to bid for the website.