By Arul Louis

New York–Ajit Pai, a commissioner in the US communications regulatory agency, has met President-elect Donald Trump amid speculation that he could head the body that deals with cellphone spectrum and broadcasting.
Trump's spokesperson Sean Spicer said on Tuesday that the meeting with Pai, who is the Republican nominee on the Federal Communication Commission (FCC), took place on Monday.
Currently the FCC is headed by Tom Wheeler, a nominee of the Democratic Party, and a change in leadership is due with the election of Trump.
The position of FCC chairman has to be approved by the Senate.
The FCC is the federal authority regulating radio, television, phone, cellphone spectrum and services, internet and satellite and cable.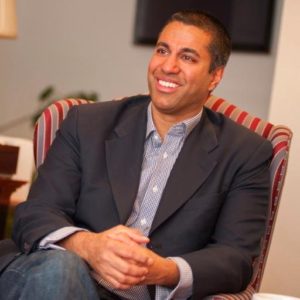 Pai, whose parents are doctors who immigrated from India, is a lawyer and has served with the government, Congress and the private sector.
A free enterprise advocate in the Republican mould, he has been a critic of the functioning of the FCC and has clashed with its leadership.
Recently, he took issue with an FCC report that questioned the legality of offerings that are used by people to access online music, videos, and other content free of charge.
Trump has nominated two Indian-Americans to high-level positions: Nikki Haley as the Cabinet-level Ambassador to the United Nations, and Seema Verma as the head of the agency for government health insurance programmes.
In addition, Trump has appointed Raj Shah as his deputy assistant and research director on the White House staff.
Another Indian American, Balaji Srinivasan, met Trump last week and Spicer said that he was under consideration for a role at the the Federal Drug Administration (FDA).
Srinivasan is a technology entrepreneur who has founded a biotech company and has been critical of the links between large pharmaceutical companies and the FDA and the agency's reach that he asserted stifles tech innovations.
He currently heads a start-up that deals with bitcoin, the internet-based currency. (IANS)