Mumbai– The Indian Hotels Company Ltd, a Tata Group firm, on Thursday said Tata Sons Executive Chairman N. Chandrasekaran has been elected as Chairman of its Board of Directors with effect from Wednesday.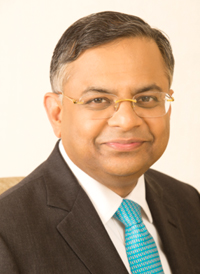 "N. Chandrasekaran has been elected as the Chairman of the Board of Directors of the Company with effect from February 22, 2017 vide a written resolution of the Board. Chandrasekaran was initially appointed as member of the board on January 27, 2017," the company said in a BSE filing.
On February 21, Chandrasekaran, 53, who has spent some 30 years in the Tata Group, joined as the new Executive Chairman of Tata Sons — the first non-Parsi to head the $103-billion global empire with a 148-year history.
He succeeds Cyrus Mistry, who was removed as Tata Sons Chairman on October 24 and Ratan Tata was named the Interim Chairman. (IANS)