By Sourabh Kulesh
Mumbai–In a big push for Prime Minister Narendra Modi's Skill India initiative, Microsoft's Indian-born CEO Satya Nadella on Wednesday launched "Project Sangam" to help the government not only train but also help people get jobs via professional networking website LinkedIn that was acquired by the company last year.
Aimed at employing and empowering low-skilled workers, "Project Sangam" will commence from Andhra Pradesh.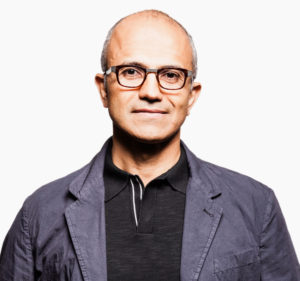 "The company will allow people to enroll through Aadhaar cards and later utilise LinkedIn to manage their profiles," said Nadella in the presence of Andhra Pradesh Chief Minister N. Chandrababu Naidu and Maharashtra Chief Minister Devendra Fadnavis at the jam-packed "Future Decoded" event here.
"Project Sangam" will be an open ecosystem where trainers can pour their content into the project and people can take the training right from "Sangam" and apply for jobs.
As soon as the training is completed, Microsoft will update their profiles for employers to shortlist and hire the skilled workers. The candidates will also receive job options according to their skills.
"It is the first project on Cloud that will bring Microsoft and LinkedIn together to help unemployed masses in India," Nadella added.
Praising the Microsoft initiative, Naidu said with infusing right ideas and technology, Andhra Pradesh can be the next Silicon Valley.
"We took the decision to become a Cloud-first state as it would help us tackle resources better. With the technology revolution, I aim to put my state among the top three states by 2022," Naidu told the gathering.
According to Fadnavis, Cloud computing is a game changer.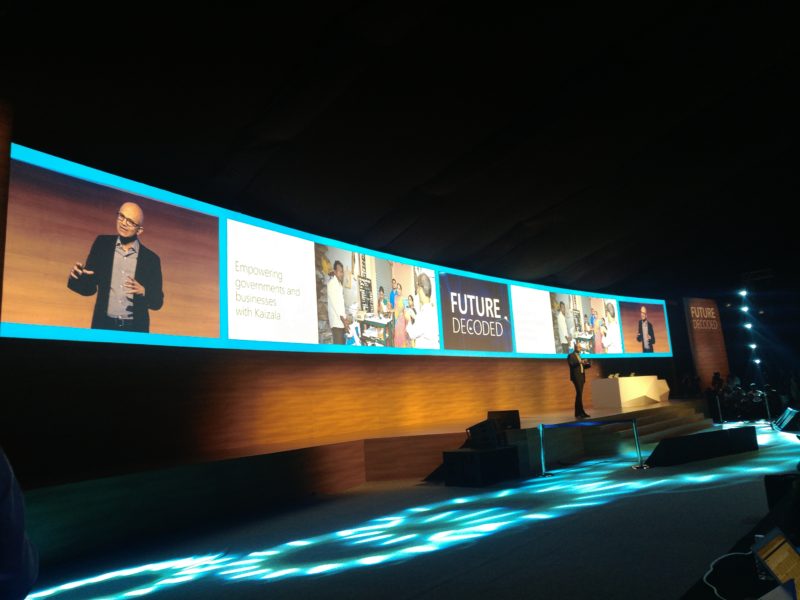 "Big Data analytics can be used to put our resources to best use. I am thankful to Microsoft for putting in one the biggest data centres in Maharashtra. We have started migrating to the Cloud and I think Cloud computing and Big Data analytics will help us gain transparency in governance," Fadnavis noted.
Throwing a direct competition to social media apps like Google's messaging app Allo and video calling app Duo, WhatsApp and Facebook Messenger, Nadella also announced "Skype Lite", an exclusive "Made for India" app to provide seamless experience in messaging, audio and video calling even at lower bandwidths.
"Packed in a 13MB file (from its original 36 MB size), the new app is available only for Android devices and is especially designed to save data," Nadella told the gathering.
"Skype Lite" will also bring Aadhaar integration to the app by June 2017. With this integration, users will be able to authenticate the identity of unknown callers in situations whre identification verification is required.
The lightweight "Skype Lite" app supports several Indian languages including Gujarati, Bengali, Hindi, Marathi, Tamil, Telugu and Urdu.
The app has data-friendly features such as "tracking data usage" which tells a user about how much data was used. It also categorises the internet usage into two sections — the amount of mobile data or Wifi used while using the app.
With these new features, the app lets a user to share multimedia files without downloading them to the device.
"Skype Lite" has functionalities such as integrated calling and SMS by which a user can make it the default calling and messaging app.
Microsoft also launched three other products — LinkedIn Lite, Starter Pack and Placements.
LinkedIn Lite is a tool that will help people connect from low-connectivity zones in the country. LinkedIn Placements is an app for college graduates.
Billed as one of the largest such pacts in the global social media space, Microsoft acquired LinkedIn for $26.2 billion in an all-cash deal last year.
Nadella also talked about the digital transformation that Microsoft Azure Cloud has brought in for retail, auto, banking and startups.
He said that companies such as Tata Motors and State Bank of India realised the power of the Cloud and moved to the Cloud-first infrastructure in recent times.
State Bank of India, Flipkart, Tata Motors, and government departments across the states of Andhra Pradesh, Punjab, Maharashtra, Karnataka and Tamil Nadu are using Microsoft's cloud and mobile technologies to empower employees, engage customers, optimize processes and transform products and services.
The company also announced Kaizala app for collaboration between desktop and mobile computing users. Available on all leading mobile platforms, Kaizala offers seamless convergence of an instant messenger and a productivity enhancer for those always on the move.
Kaizala has been successfully tested by Andhra Pradesh government at a 12-day mega event involving 20 million people. The state government now plans to replicate it across departments to implement real-time governance.
"Future Decoded" — Microsoft's two-day flagship technology and business conference that kicked off here on Tuesday — is a platform that brings together 1,500 business and government decision-makers to engage in conversations on how technology will transform all aspects of our work and life. (IANS)