New Delhi– The central government on Thursday did away with security requirement of stamping hand baggage tags at the time of boarding the aircraft at seven airports.
According to Bureau of Civil Aviation Security (BCAS), airports in New Delhi, Mumbai, Kolkata, Bangalore, Hyderbad, Ahmedabad and Cochin have been exempt from following the security procedure with immediate effect.
Till now, passengers had to get their hand baggage stamped by ASG (Aviation Security Group)/APSU (Airport Security Unit) personnel after security check at PESC (Pre- embarkation Security Check) points.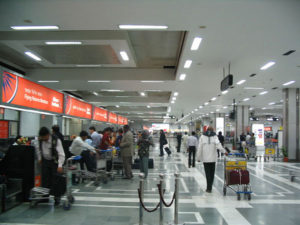 Under the current security apparatus passengers with non-stamped baggage tags are not allowed to board flights.
The BCAS in its latest circular said that the decision to allow hassle-free movement of passengers with hand baggage was taken after two phase trial runs were conducted at the seven airports.
"It is pertinent to mention that the trial run for the same has already been successfully conducted in two phases at the aforementioned airports by ASG/APSU after putting in place the requisite surveillance and monitoring system," the BCAS circular said.
"The feedback from the trial run has been analysed and a positive response has been recorded."
Besides, the circular said that the airport operator need to ensure that the requisite monitoring system is maintained all through out PESC points.
The airport operators have installed high-resolution CCTV cameras and other appropriate technologies for security screening of baggage.
Last year, Civil Aviation Minister P. Ashok Gajapathi Raju said that trial run have been started at select major airports to facilitate hassle-free movement of passengers with hand baggage.
"This is a very progressive step and will facilitate hassle-free movement of the passengers. This will also bring down the traversal time at the airports," the minister was quoted that time as saying in a statement.
The week-long trial runs in two phases for all domestic passengers was initiated by the BCAS on the advice of the Ministry of Civil Aviation.
The earliest trails by BCAS was initiated in collaboration with Hyderabad International Airport Limited and CISF for non-stamping of baggage tag in one of the lanes at Hyderabad airport.
It is widely expected that with the success of the trial runs, the same practice will be extended to other airports. (IANS)