BOSTON–ClearMotion, Inc., an automotive technology company developing the world's first digital chassis and co-founded and led by Shakeel Avadhany , has raised  $100 million Series C preferred stock financing, the company said in a statement.
The investment led by clients advised by J.P. Morgan Asset Management, with participation from New Enterprise Associates (NEA), Qualcomm Ventures, World Innovation Lab (WiL), and Eileses Capital. This round brings the company's total investment to date to over $130 million.
"Innovation in the car business is ramping dramatically, and we see an opportunity to make our mark upon it," said Avadhany, CEO and co-founder of ClearMotion. "Self-driving functionality mandates a future in which cars afford not just driving pleasure, but the utility of a mobile office. We are focused about the quality of time in autos and how we transform it by digitizing our relationship to the road, allowing software to control the dynamics of the car. We are excited to work with leading automakers and Tier-1 suppliers in making this a reality."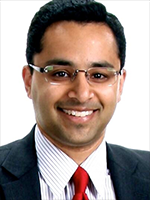 ClearMotion's "digital chassis" technology replaces traditional automotive shock absorbers with software-controlled actuators, allowing cars to interpret and react to road conditions in real time. The system combines an unmatched level of comfort with the response and agility of a sports car. ClearMotion's actuator technology pushes and pulls the wheels at high speed, delivering a calm and relaxing ride experience in what otherwise may be disturbing conditions. Proprietary software algorithms have enabled the commercial viability of the system while maintaining dramatic gains in performance.
Jonathan Ross, Managing Director at J.P. Morgan Asset Management, is joining ClearMotion's Board of Directors.
"As the world continues to move toward connected, autonomous cars and mobility services, the next frontier of competition will be user-experience," said Ross. "People spend an average of 1.5 hours per day in their cars. ClearMotion technology transforms the in-cabin experience, keeping passengers productive, safe, comfortable and engaged. This is central to how we envision mobility of the future."
ClearMotion is a venture-backed automotive technology startup based in the Boston area. The company was founded out of the Massachusetts Institute of Technology and is focused on launching the world's first digital chassis to usher in next-generation user experience for autos.