New Delhi– Mobile messaging service WhatsApp on Friday announced that it has 200 million monthly active users in India.
Brian Acton, the co-founder of WhatsApp, along with Neeraj Arora, Head of Business, WhatsApp, on Friday visited Indian Institute of Technology – Delhi to interact with the students.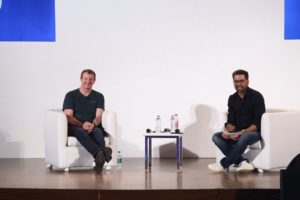 The discussion focused on the ways WhatsApp can contribute to India as it is invested in building a service with high utility for millions of Indians, the company said in a statement.
WhatsApp has been rolling out updates and features to make the app more secure for its users.
The new "Status" feature lets users share photos, GIFs or videos overlaid with drawings, emojis and a caption that will be visible to selected friends for 24 hours, before disappearing.
Users can also see who has viewed their Status update by tapping the eye icon at the bottom of any Status update.
The new feature is now available to all users across the globe on iPhone, Android and Windows devices. (IANS)