By Arul Louis

United Nations– Empowering women to achieve economic equality would "exponentially" increase global gross domestic product (GDP) by at least $12 trillion by 2025, according to Assistant Secretary General Lakshmi Puri.
With women's equal participation in the economy, world GDP has the potential to even go up to $28 trillion, she said Tuesday citing a study done by the consulting company, McKinsey, in association with UN Women, the international organisation's outfit for women's empowerment and equality.
The total world GDP is estimated to be about $75 trillion.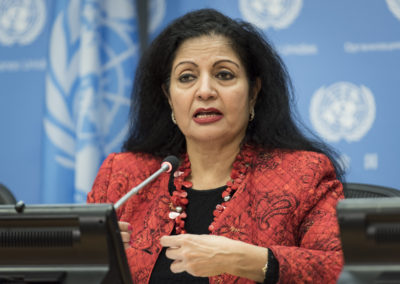 "We need to make a great leap" to reach that goal of economic equality by 2030, she said at a news conference on the eve of International Women's Day.
To focus on economic equality, the theme of 2017's observance is 'Women in the Changing World of Work: Planet 50-50 by 2030' with the goal of achieving parity that year.
At the current rate of progress, she said, it would take 170 years to achieve pay equality, according to a World Economic Forum report on gender gap.
The current pay gap between women and men is at least 23 per cent and even bigger in many countries, she said.
Women do two-thirds of the world's work in terms of hours, yet their global income is only one-tenth of men's, she said, with too many hours spent in providing care and in domestic work.
Women put in two-and-a-half times more time in these mostly unpaid and very under-appreciated tasks than men on a global average. (IANS)