New Delhi–Australian Prime Minister Malcolm Turnbull on Monday said his country would begin exporting uranium to India "as soon as possible" as he held talks with Prime Minister Narendra Modi here during which both sides also agreed to deepen cooperation in defence and security as well as in education.
"We've worked closely with India to meet our respective requirements for the provision of fuel for India's civil nuclear programme, and we look forward to the first export of Australian uranium to India as soon as possible," Turnbull said in his media statement after holding bilateral talks with Modi.
Modi, in his statement, said with the passing of legislation in the Australian Parliament with bipartisan support, Australia is "now ready to export uranium to India".
The joint statement said India welcomed the passage of the Civil Nuclear Transfers to India Act by the Australian Parliament, which could ensure commercial exports of Australian uranium begins soon.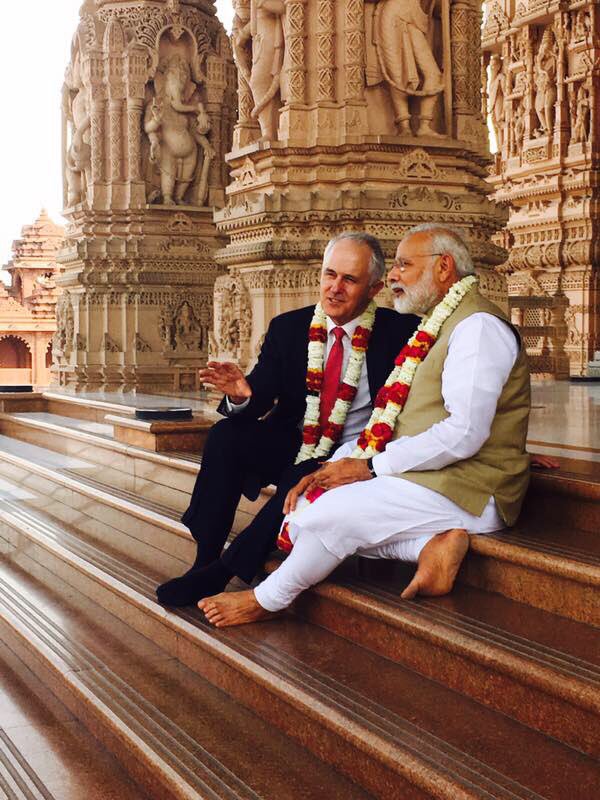 In September 2014, India and Australia signed a Civil Nuclear Agreement for Australian supply of uranium to India.
In December last year, Australian Parliament passed a law to allow the supply of uranium to India. The commercial deals for the supply of uranium are being further negotiated.
Turnbull also said his country was "pleased to be providing increasing quantities of high quality coal for steel making and increasingly for power generation with advanced super critical technology".
The two sides signed six MoUs, including on cooperation in fighting international terrorism and on civil aviation security.
Addressing the media jointly with Turnbull after the talks, Modi said that cooperation in the fields of education and research was "one of the most important aspects" of India-Australia ties.
"Both India and Australia recognise the central value of education and innovation in the prosperity of our societies," he said.
"It is no surprise, therefore, that cooperation in the field of education and research is one of the most important aspects of our engagement."
Laying stress on students exchanges between the two countries, Modi said that while Australia was home to over 60,000 Indian students, an increasing number of Australian students was coming to study in India.
He also called for working closely with members of the East Asia Summit and the Indian Ocean rim countries to pursue common interests.
On his part, Turnbull said Australia was helping India in its water management policy while sharing expertise in the area of renewable energy.
Stating that trade in goods and services between the two sides stood at $20 billion, he said there was scope for increasing this.
"We are working with India for a quality RCEP (Regional Comprehensive Economic Partnership)," he said.
RCEP is a proposed free trade agreement between the 10 member-states of the Association of Southeast Asian nations (Asean) and the six countries with which Asean has free trade agreements — Australia, China, India, Japan, South Korea and New Zealand.
On the Comprehensive Economic Cooperation Agreement between India and Australia, Turnbull said they had "very good discussions", and that both felt that "progress has not been as fast as either of us would like it to be".
Both sides have asked their chief negotiators to schedule an early meeting to get the process moving.
"We will ask them to tabulate the areas of ambition where each side is seeking access so that we can see where and to what extent the parties, the negotiators are apart and they will report back to us as soon as possible so that we can keep the focus on delivering the CECA and identifying the areas where more work needs to be done," Turnbull said.
In the meantime, both sides are working to identify tangible, commercial opportunities to strengthen two-way trade and investment and this would be a particular focus of his visit to Mumbai this week, he added.
The joint statement issued said the two were committed to deepening the bilateral defence and security partnership.
According to the statement, the two Prime Ministers also underscored the joint commitment of Australia and India, as fellow Indian Ocean nations, to enhance regional cooperation in promoting maritime safety and security and welcomed the important role of the bilateral White Shipping Agreement.
"Both countries remain strongly committed to the breadth of their defence ties, including through ongoing annual staff talks for army, navy and air forces," it stated.
It also said that "the two Prime Ministers reiterated their strong commitment to combat terrorism in all its forms and manifestations, and stressed that there can be no justification for acts of terror on any grounds whatsoever".
"They asserted that the fight against terrorists, terror organisations and networks should also identify, hold accountable and take strong measures against all those who encourage, support and finance terrorism, provide sanctuary to terrorists and terror groups, and falsely extol their virtues," the statement said.
In this regard, the two Prime Ministers also welcomed the signing of an MoU on fighting international terrorism and transnational organised crime.
Modi and Turbull also jointly inaugurated through video-conferencing the TERI-Deakin Nanobiotechnology Centre in Gurugram, set up by India's TERI and Australia's Deakin University.
Earlier on Monday, Turnbull was accorded a ceremonial welcome at Rashtrapati Bhavan. Thereafter, External Affairs Minister Sushma Swaraj called on him.
In the afternoon, Modi and Turnbull travelled by a Delhi Metro train to visit the Akshardham temple in east Delhi.
The Australian Prime Minister arrived here on Sunday on a four-day state visit to India – his first to India since he assumed office in September 2015.
His predecessor Tony Abbott had visited India in September 2014 and this was followed by Modi's visit to Australia in November that year.