Mumbai–You may have heard of crowd sourcing of funds. But here comes a loan proposal which brings in crowd approval.
Tata Capital has announced a personal loan initiative, which will be processed by the company on the basis of approvals received from people on the social and digital media.
The initiative — Salaam Loans — will offer up to Rs 1 lakh at heavily discounted rates to deserving individuals who may not have access to organised credit, according to a press release issued by the company.
The initiative aims to "salute the unbreakable spirit of those who brave severe circumstances and yet dare to dream big", the release states.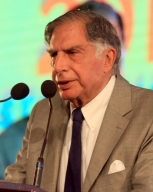 Here's how it would work: Individuals would be able to upload their own story, or stories of people known to them on the website www.doright.in. These stories would then be showcased across the country via social and digital media. Once the public puts in enough number of 'salaams' for a deserving person, the company would process the loan.
"The stories of some of these individuals are extremely worthy and the courage and fortitude they display is commendable. Under Salaam Loans, we have given the power of approval to the public to help fulfill their dreams," said Praveen Kadle, Managing Director and CEO of Tata Capital.
The company says that access to unsecured personal loans are offered across a range of profiles, but still many individuals are unable to get finance on account of reasons such as insufficient credit history, inadequate or irregular income and improper documentation. (IANS)