New Delhi– India and Turkey on Monday agreed to boost bilateral trade and investment relations, with various institutional mechanisms being initiated towards this end.
"I agreed with Prime Minister (Narendra) Modi that we should increase our economic relations and we will have opportunity to discuss this further today (Monday)," Turkish President Recep Tayyip Erdogan said at the India-Turkey Business Forum, where Prime Minister Modi also was present.
"It would be good to start free trade agreement (FTA) talks, which would add further momentum to our relations," he said.
Noting that Indian industry chamber FICCI, the organisers of the forum, had requested permission to open a liaison office in Turkey and the Turkish Export Office should start an office in India, Erdogan said the balance of trade is heavily weighted against Turkey.
"Joint trade volume should be balanced. Steps should be taken to achieve that," Erdogan said.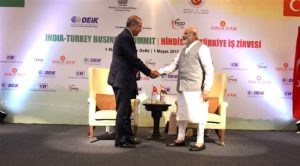 Bilateral trade between India and Turkey last year stood at $6.5 billion, of which Indian exports accounted for nearly $5.8 billion and Turkish exports to India amounted to only $652 million.
"This is not sustainable for Turkey and there is need to increase reciprocal investment so that trade balance is achieved," he said.
Addressing the gathering, Modi said India planned massive investments in creating social and economic infrastructure and Turkish construction companies, renowned globally, "can easily participate in Indian infrastructure building".
"This meeting marks a new era of business relations," Erdogan said.
Earlier in the day, President Pranab Mukherjee and Modi received Erdogan at Rashtrapati Bhavan where he was accorded a ceremonial welcome with guard of honour.
Erdogan, who arrived here on Sunday, is on a two-day state visit to India. (IANS)