Lisbon– India and Portugal on Saturday launched a joint international startup hub soon after Narendra Modi expressed his amazement that there has been no bilateral Indian Prime Ministerial visit ever to this European nation that is home to around 70,000 people of Indian origin.
The decision to launch the startup hub was taken during Portuguese Prime Minister Antonio Costa's visit to India in January this year.
"Portugal has emerged as one of the most vibrant European ecosystems for entrepreneurship," Modi said during a joint address to the media with Costa, who traces his origin to Goa, after bilateral discussions.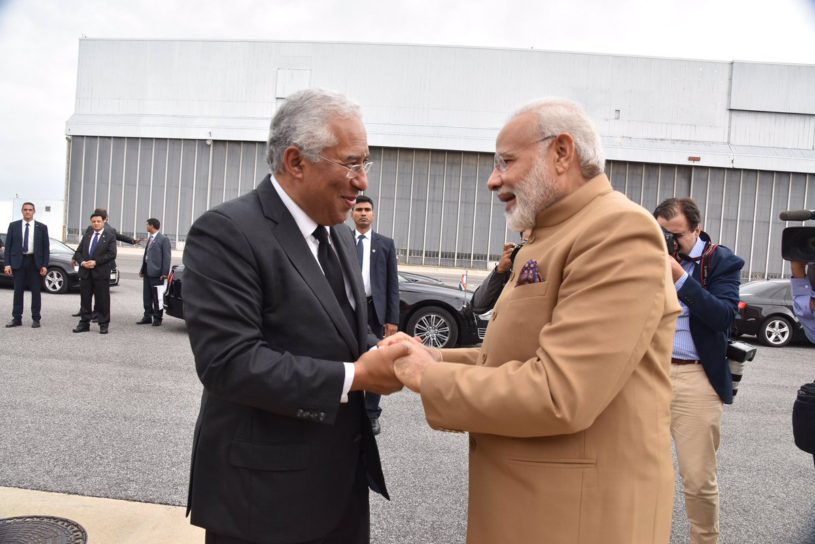 "India too has its own viable startups and industry. The startups here is an exciting space that blends youth, idea, technology, innovation and creativity to generate value and wealth for the benefit of the society," he said.
Given Goa's strong cultural and historic connection with Portugal, Modi's visit, the first leg of his three-nation tour that will also take him to the US and the Netherlands, is significant.
Modi said that it was "surprising for me to know that there had never been a bilateral visit by an Indian Prime Minister to Portugal".
"However, I take satisfaction in the fact that this is the second summit between India and Portugal within a period of six months," he said.
Costa visited India in January this year after becoming head of government last year.
"Our economic ties continue to follow an upward trajectory. Bilateral trade has grown 17 per cent last year," Modi said.
"And, the foreign direct investment from Portugal to India, though small, has doubled during 2016-17. But, there is much more that we can do to increase the flow of goods, services, capital and human resources between our two economies."
Modi also stressed on people-to-people ties between the two countries saying Costa's passion for football would help deepen bilateral ties.
An MoU on sports and youth affairs was among nine agreements signed between the two countries after Saturday's talks.
The other agreements signed are an India-Portugal space alliance, a protocol amending the double taxation avoidance agreement for the avoidance of double taxation and the prevention of fiscal evasion with respect to taxes on income, an MoU on Nano Technology, an MoU on Public Administration and governance reforms, an MoU on cultural cooperation, an MoU on biotechnology, and an MoU on a Portugal-India Business Hub.
Modi also said that both India and Portugal were determined to deepen the cooperation in the fight against terrorism and religious extremism.
Costa thanked the expatriate Indian community's contribution to Portugal's economy and society.
Earlier in the day, in a break from protocol, Modi was received at the airport here by Portuguese Foreign Minister Augusto Santos Silva.
Following his official engagements, Modi visited a temple and interacted with the Indian community here before embarking for the US on the second leg of his three-nation tour. (IANS)