New Delhi,– Union Housing and Urban Affairs Minister Hardeep Singh Puri on Tuesday expressed concern over the living conditions of construction workers and urged builders to ensure dignified living for them by providing the necessary basic facilities.
Puri, who released a commemorative stamp here to coincide with 25 years of the Indian Builders Congress, reminded its 5,100 members that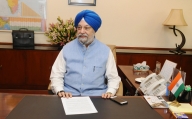 it was their responsibility to ensure decent living conditions like facilities for cooking, bathing and toilets for workers at construction sites under Clause 19H of the General Contract Conditions and Contract Labour (Regulation) Act.
He said the law was not generally complied with which was not acceptable.
Construction workers make a yeoman's contribution to national economic growth and deserve to be treated with dignity, the Minister said.
According to an official release, Puri said the real estate sector kept evolving with the progress of economic reforms and the resultant economic growth, but had run into hurdles "due to inadequate self-regulation and lack of regulatory mechanism".
"This necessitated the Real Estate Act, which was made a reality by this government in 2016, eight years after it was first proposed. The real estate sector is finding the going bumpy but will soon settle at a new normal as all stakeholders are working towards that end," the Minister said. (IANS)