New Delhi, Oct 24 (IANS) Finance Minister Arun Jaitley on Tuesday hit back at Congress Vice President Rahul Gandhi for mocking the Goods and Services Tax (GST) as "Gabbar Singh Tax", saying those "habituated" to scams would object to legitimate tax.
"Those habitual of 2G and coal block scams, will have objections to legitimate tax," Jaitley said in response to a question on Rahul Gandhi's jibe at GST.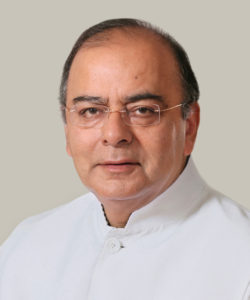 The Finance Minister was addressing the media after a cabinet meet which approved a massive recapitalisation plan for state-run banks worth Rs 2.11 lakh crore and also road building programmes of around Rs 7 lakh crore with a target to construct 83,677 km of roads in the next five years.
At a public rally in Gujarat, Gandhi had described GST as Gabbar Singh Tax and again took a dig at the government on Tuesday over the pan-India tax regime, saying it was designed to grab peoples' earnings.
"Congress GST = Genuine Simple Tax. Modiji's GST = Gabbar Singh Tax = Ye kamai mujhe de do (Give me these earnings)," Gandhi mocked in a tweet.
Gandhi's remarks highlighted the difference of the GST proposed by the previous Congress-led UPA regime and the one implemented by the Bharatiya Janata Party (BJP) government.