Dahej (Gujarat)– Ruling out a review of the daily dynamic pricing regime for transport fuel introduced last June, Petroleum Minister Dharmendra Pradhan on Monday however said the government was concerned about rising fuel prices and is working on a long-term solution to the problem of price volatility.
In face of the recent surge in petrol and diesel prices, Pradhan also appealed to state governments to tax these within a "reasonable and responsible" band.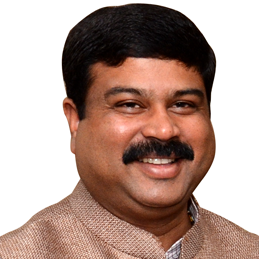 "There is no review of daily price mechanism," Pradha" told reporters here after receiving the first liquefied natural gas (LNG) shipment from Russia under a long-term contract at the import terminal here on Monday.
"We are thinking of a long-term solution. We are concerned about prices and about the plight of the common man. Government of India is taking a holistic view," he said.
The Minister also said that state governments should cut sales tax, which because of their levy ad valorem leads to rise in revenues of the state governments when prices rise.
"We cannot push states but only appeal to them.
"I have already categorically stated several times that the present oil price hike is due to three main factors. Hike in the international price of crude, fluctuation in the dollar and Indian currency ratio, and some of the tax issues are also there," he added.
State-run oil marketing firms marginally lowered petrol prices for the sixth consecutive day on Monday under the dynamic pricing regime although the rates continue to rule at unprecedented levels following the resumption of daily price changes after a 20-day suspension of the system last month owing to the Karnataka elections.
As per prices announced by largest retailer Indian Oil Corp, petrol per litre in Delhi on Monday cost Rs 77.96, down from Rs 78.11 on Sunday.
Similarly, in Mumbai and Kolkata, petrol prices were at Rs 85.77 and Rs 80.60 a litre respectively, while in Chennai petrol fell by 15 paise on Monday to Rs 80.94 per litre.
Diesel sold on Monday in Delhi, Kolkata, Mumbai and Chennai for Rs 68.97, Rs 71.52, Rs 73.43 and Rs 72.82 per litre, respectively.
"Today will be seen as the golden day for India's energy roadmap," Pradhan said referring to first LNG ship from Russia, adding that the government is committed towards transforming India into a gas-based economy.
"To bring Russia's LNG in India is a big achievement in our energy roadmap. In next 20 years, $25 billion worth gas will come to India and nearly $1.5 billion worth of LNG will be bought from Russia every year. It is a successful deal between India-Russia," he said.
"Four years back, we were importing LNG from only Qatar. Today we are getting LNG from Australia, US and now Russia," he added.
State-run gas utility GAIL has signed a 20-year contract with Russia's energy giant Gazprom for purchase of 2.5 million tonnes of natural gas a year.(IANS)