New Delhi– The Reserve Bank of India (RBI) on Friday told the Supreme Court that it is necessary to regulate the Bitcoin and other cryptocurrencies to check illegal transactions which will impact the international flow of funds.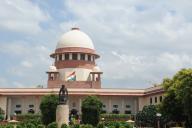 The RBI told the bench of Chief Justice Dipak Misra, Justice A.M. Khanwilkar and Justice D.Y. Chandrachud that its stand is of extreme caution as it has severe policy implications.
Appearing for the RBI, senior counsel Shyam Divan said they have a particular stand and other departments may have other positions.
Divan told the court that a committee is looking into the issue and as such RBI will require three weeks time to respond to various petitions seeking such regulations.
The senior counsel was referring to an interdisciplinary committee headed by secretary of economic affairs Subhash Garg that was set-up in 2017 to examine virtual currencies and recommend the regulatory framework for crypto currencies.
The Court was hearing a plea against RBI circular banning bank dealings in cryptocurrencies.
The top court slated the next hearing for September 11 as senior counsel Gopal Subramanium told the Court that matter is serious and needed to be heard and decided at the earliest.
Subramaium said, "In today's tech world, transactions are done online and you need banks for that" and that should concern the government.
Subramanium described as "baseless" the RBI circular that mandated its regulated entities including banks to withdraw support for crypto urrency exchanges and other businesses dealing with virtual currencies.
In a bid to protect consumers and curb money laundering and other financial irregularities, the RBI had, on April 5, barred all its regulated entities, including banks, from dealing in virtual currencies like bitcoins, following its earlier multiple warnings on their risks.
Regulated entities already providing services to any individual or business dealing in digital currencies had been given three months to exit the relationship.
Cryptocurrency trade in rupees stopped on July 6 , while exchanges or cryptocurrency companies will now be unable to avail loans or hold bank accounts.
The RBI statement in April had said: "We have now decided to fence RBI-regulated entities from the risk of dealing with entities associated with virtual currencies. They are required to stop having a business relationship with entities dealing with virtual currencies forthwith, and unwind the existing relationship within three months.
"Virtual currencies, also variously referred to as cryptocurrencies and crypto assets, raise concerns of consumer protection, market integrity and money laundering, among others."
The RBI, however, also said it is exploring a "fiat digital currency" issued by the Central bank. (IANS)