Google CEO: India Poised To Become Silicon Valley of the East
On his first visit to India after taking over as CEO of Google, Sundar Pichai met with the Indian leadership, including Prime Minister Modi. During his visit, Pichai said that India will be a larger market than the US for Google by 2016 and India is well-positioned to become the Silicon Valley of the East.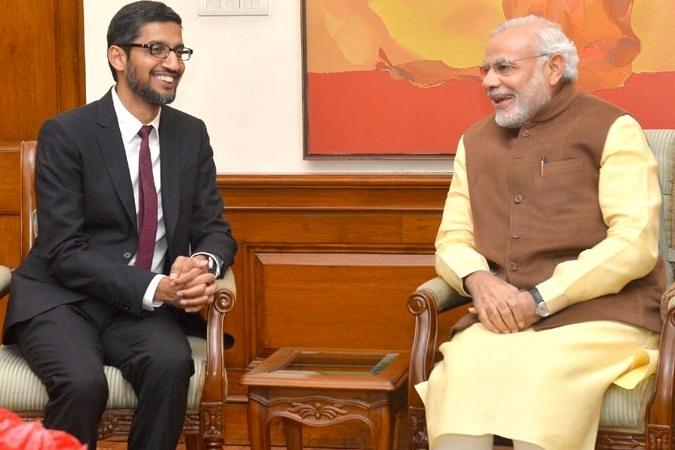 Boeing: India Has Strong IPR Laws
India has very strong laws on intellectual property rights (IPR) and Boeing does not see a threat of violation of these rights in the country, the U.S. aviation giant's India counsel said. "I do not say this because India is the largest market for us outside the U.S. but because India indeed has modern IPR laws and is a signatory to most international treaties related to intellectual property rights," said Akhil Prasad.
Foreign Investment Up by 13% to $16 Bn in the First Half of FY2016
Foreign direct investment (FDI) in India witnessed an increase of 13 percent and reached $16.6 billion during April-September of 2015 as compared to $14.7 billion in the same period last year. Top foreign investors were Singapore, at $6.7 billion, followed by Mauritius at $3.7 billion.
PwC: India Had $17.5 Billion in Private Equity Investments in 2015
Private equity investments in India hit a record high of $17.5 billion in 2015 across 685 deals, surpassing the previous high of $14.7 billion recorded in 2007, a PwC report says. The surge in PE investments this year was largely owed to the e-commerce sector, which saw deals worth $5.3 billion across 290 deals.
Intel Bets Big on Indian Data Center Business
Chip-maker Intel is betting big on its India data center business fueled by demand from tele-communications companies, e-commerce firms, government and enterprises. The company's India data center business is set to witness a 50 percent growth in the current fiscal year. Diane M. Bryant, Senior Vice-President, Data Centre Group for Intel Corporation, said: "India as a marketplace is a big growth opportunity for our data centre business."
Govt. Introduces New Bankruptcy Bill to Ease Doing Business
Seeking to improve the ease of doing business, the Government has introduced a new bankruptcy code that provides for resolution of insolvency in a timely manner. The bill aims at promoting investments, leading to higher economic growth.
Tax Board Takes Steps for Reducing Tax Litigation
The Central Board of Direct Taxes has revised the monetary limits for filing of appeals by the Department with the objective of reducing litigation as a part of its initiatives to reduce grievances of taxpayers. The revised limits have been made applicable retrospectively to pending appeals also.
Expat Employees of Multinationals Working in India Get Tax Break
Payments to expats working in India for local arms of multinational corporations (MNC) by the foreign parent won't attract service tax,the Authority for Advance Ruling has said.The decision is significant as it brings some relief to MNCs that have been served with notices in similar cases.
Reserve Bank Will Tweak Strategic Debt Restructuring Rules
The Reserve Bank of India (RBI) will tweak the strategic debt restructuring (SDR) rules on the basis on feedback from banks taking into account their experience in dealing with errant borrowers in the past six months, RBI's Deputy Governor R. Gandhi said. SDR allows banks to convert their loans into equity giving them more control in recovering bad loans by fastening the sale of assets.
Moody's: New Reserve Bank Rule for Rate Calculation is Positive
The Reserve Bank of India's new uniform methodology for calculating the base rate on the marginal cost of funds is "credit positive" for Indian banks as it would ease pressure on their balance sheet, Moody's said.