By Nivedita
NEW DELHI– India's burgeoning appetite for foreign brands attracted a string of international brands to establish their presence in the country this year. US apparel retailer GAP, Swedish multinational retail-clothing company H&M, British fashion brands TOPSHOP and TOPMAN and more, available at brick-and-mortar stores or online mediums, are already a hit.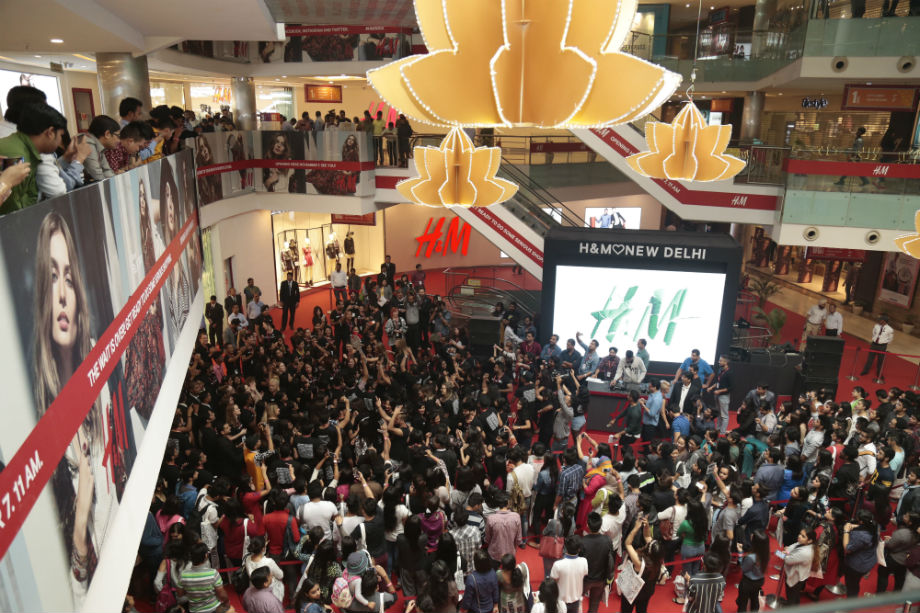 The summer arrival of GAP, which has made inroads into India through a franchise agreement with textile and retail major Arvind Lifetsyle Brands Limited, was much talked about.
Spread over a 10,000 sq ft south Delhi mall, the first flagship store offers Gap for men and women, GapKids, and babyGap. The plans are big as officials hope to open about 40 stores in the next five years and Arvind Lifetsyle Brands Limited expects Rs. 1,000 crore worth of business opportunity from the venture.
"I think our clothes are perfect for Indian summer. It's very easy to wear with a whole lot of linen feel to it," Oliver Kaye, CEO – Gap Business, told IANS.
Arvind Lifestyle Brands Limited also brought American youth brand Aéropostale to India, with a store at a south Delhi mall in November.
Swedish multinational retail clothing company H&M, which is known globally for offering fashion and quality at the best price in a sustainable way, also opened shop in the country, again at a south Delhi mall.
And then, call it the successful feedback of the first store that within a gap of a month, the brand opened its second store – its largest in the country – at another south Delhi shopping destination.
Expansion plans for the brand include another store in capital suburb Gurgaon, to be followed by outlets in Mumbai and tier-II and tier-III cities.
India is one of the most exciting markets in the world right now, with so much potential within retail, said Janne Einola, country manager, H&M Hennes & Mauritz Retail Private Limited.
"The response to H&M has been fabulous! We are happy that the Indian customers are pleased with our business concept of fashion and quality at the best price in a sustainable way.
"We see a great potential for further expansion in India, the number and time frame will be determined by real-estate opportunities and retail market development.
"Our expansion strategy is to always open at the best business location. We have proposed to invest up to euro 100 million ($110 million) in the SBRT (Single Brand Retail Trade) application," Einola told IANS.
It was not only through offline stores that many international brands made its India entry this year as many of them chose to be part of the Rs.720 crore worth Indian fashion industry through online mediums.
Handbags from French label Anna Luchini are now available in the Indian market via e-commerce platform Fashionara.com, which has also introduced watches for women from another French label, Christian Lacroix.
Jabong, a leading fashion online retailer in India, has clearly established its dominance in bringing well-curated collections of international fashion labels such as Buggati Shoes, Tom Tailor, NEXT, Misguided, TOPSHOP, TOPMAN, et al in its portfolio this year.
Nils Chrestin, Interim CEO at Jabong and Group CFO of Global Fashion Group, feels that many international brands today are seeking an online presence to explore the diverse Indian market.
"In the last two years, Jabong has facilitated a lot of deals and, as a result, has been able to successfully build an International portfolio," Chrestin told IANS.
Officials of TOPSHOP and TOPMAN had been eyeing India as a feasible market for quite some time before partnering with Jabong. They feel that the country's market demonstrates great opportunity for fashion brands and the Indian customer is very fashion-savvy.
As of now, they are happy with the response from the customers.
"TOPSHOP and TOPMAN are very new to India and after an impactful launch on Jabong in September earlier this year have continued to experience high levels of traffic as well as meeting sales targets.
"Both brands are growing at a rate of 25 percent month on month and contribute substantially to Jabong's international business portfolio. There's a huge appetite for fashion in India which is why so many brands continue to enter the market," the brands' spokesperson told IANS.
Also, six leading South Korean cosmetic companies made their debut in India this year with an array of cosmetic and wellness products. The companies signed a joint venture agreement with an Indian firm for marketing their products first and will eventually make them in India under the 'Make in India' campaign.
The companies are PLK International, Coson Company Limited, Outin Futures Corporation, BCL Cosmetics Company Limited, Kell Cosmetics Company Limited, and Esthetic House Company.