HYDERABAD– India's largest textile park will come up in Telangana's Warangal town, Chief Minister K. Chandrasekhar Rao announced on Wednesday.
He said the proposed 'cotton-to-garment' park will be set up in an area of 2,000-3,000 acres.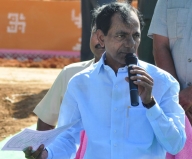 The Warangal district collector has already released Rs.100 crore for acquiring land for the textile cluster.
The chief minister said that while textile parks in different parts of the country like Solapur, Tirupur and Surat were engaged in manufacturing specific categories of garments, the proposed park in Warangal will cover all segments.
KCR, as the chief minister is known, said the international standard park will also have an apparel park for readymade clothing.
He said the government would promote the park in collaboration with various companies. "Some companies have already come forward."
He was confident that with a major railway junction in Warangal and the possibility to build an airport, the textile cluster would have tremendous potential.
He believes the park with a township will increase Warangal's population by four to five lakh in three to four years.
With a population of 10 lakh, Warangal is the second biggest city in Telangana after Hyderabad.
KCR announced that Warangal will also be developed as an education hub. He said the foundation stone for a health university would be laid soon.
He also declared that a tribal university, veterinary and agriculture colleges and a sainik school too will come up in the town.
He announced the formation of a special development authority for development of Warangal, which has been selected under the Smart Cities project of the central government.
Every year, Warangal will be allocated Rs.300 crore in the budget. A total of Rs.3,000 crore is expected to be provided under all schemes.
A multi-speciality hospital, multistoried buildings for the offices of municipal corporation, district collector, police commissioner, development of a theme park and convention centre were the other announcements made by the chief minister.
The government will also construct 30,000 houses under double bed-room housing scheme for poor over next two years to make Warangal a slum-free city.