New Delhi–The Economic Survey 2015-16 suggested that the e-Tourist Visa window should be extended to 180 days instead of the current 30 days before tour and also stressed the need of a multiple entry e-Tourist Visa instead of the existing single entry to boost tourism.
The survey, presented in parliament on Friday by Finance Minister Arun Jaitley, suggested "practical suggestions" to boost services sector including tourism.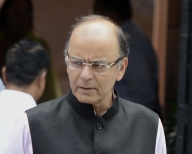 "Extension of duration of stay to 60 days under e-Tourist Visa (e-TV) instead of 30 days and making available biometric facility in major ports to help cruise passengers get e-TV will assist in boost tourism in the country," it said.
"To avoid delay the counters for e-TV tourists should be increased and the e-TV facility should also be extended to medical tourists," it said.
The other measures suggested by the survey include examining the possibility of giving special incentives like tax-free bonds and income tax exemptions on profits used in reinvestment in the tourism sector, development of tourism infrastructure on public private partnership basis and by channelising corporate social responsibility (CSR) spends into India's heritage development.
It said that there was a need to promote medical tourism in the Brand India Campaign instead of the current fragmented approach where individual hospitals had been promoting themselves as hospital destinations.
"Rapid immigration clearances for medical tourists, enhanced basic infrastructure for them at airports, streamlining the medical visa process and extending e-TV to medical tourists would help in boosting medical tourism," it said.
"Medical tourism can be boosted by promotion of geriatric healthcare by leveraging our expertise in ayurveda, yoga and unani practices and by getting international accreditation for Indian hospitals," the survey said.
It said that other steps like making railways more tourist friendly with cleanliness and hygiene, e-booking with special quotas for foreign visitors, introducing smart cards for e-payments across all tolls in India and national permit for tourist vehicles would improve the tourism sector in the country.