New Delhi–Terming the union cabinet's nod for ratifying the WTO's trade facilitation agreement a "very significant step", Commerce Minister Nirmala Sitharaman on Wednesday said the government has already taken several steps to fulfil its obligation on the pact.
"It is a very significant step and I am glad that the government has taken this step today," she told reporters here.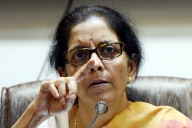 The cabinet on Wednesday accorded approval to the agreement which could increase global merchandise exports by up to $1 trillion annually.
Sitharaman said that in the last two union budgets, the government had made several commitments towards improving systems within India for trade facilitation.
However, she said, there are important areas where India will require legal changes that include inward and outward processing to facilitate re-import and re-export of goods for repair and reconditioning, as well as allow release of goods before payment of duty on a surety in all cases of imports where the duty is not determined prior to or upon arrival, or as rapidly as possible after arrival.
"We have asked for time on things which require further investment and also technology and other things or which require legislative amendments. We have asked for five years.
"What this will mean moving forward will be that we will now deposit with the WTO our ratification formally," she added.
The cabinet also approved setting up a national committee on trade facilitation, which will have the secretaries of revenue and commerce as co-chairs.
The TFA, approved by 160 WTO members, aims to streamline and harmonise customs procedures. The WTO has said full implementation of the TFA could increase global merchandise exports by up to $1 trillion annually.
The agreement will come into force when two-thirds of the 161 WTO members have ratified it.
An agreement between India and the US last year opened the way for a consensus on the TFA which eluded the WTO members.