Mumbai– Gujarat Chief Minister Anandiben Patel said on Tuesday that her state will set up foreign desks in global financial centres like New York, Dubai, Frankfurt, Guangzhou and Tokyo to attract investments from the Indian diaspora.
"The Gujarati diaspora is present in huge numbers abroad and is prepared to invest towards the growth of their home state. In order to institutionalize this, we will set up foreign desks at New York, Dubai, Frankfurt, Guangzhou and Tokyo," Patel said while addressing the Gujarat Investor Summit at the ongoing 'Make In India Week'.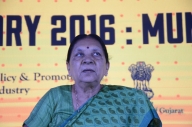 Giving an overview of the investment proposals in the state, she said Gujarat has received investment intentions proposals worth Rs.62,403 crore in 2015, which is nearly 21 percent of the entire country.
She said the state has proved its excellence in 97 multiple parameters for 'Ease of Doing Business' and also encourages small, medium-micro and medium and MSME industries.
"More than 600,000 such MSMEs are present in the state providing opportunities to nearly four million people. Our policies have always been industry-friendly and have managed to attract both domestic and foreign investors through its biennial the Vibrant Gujarat Summit," Patel said.
She noted Gujarat is the biggest auto hub in India with companies like Tata, Ford, Maruti, Honda Scooters and others operating from there.
Besides, she said there is a huge growth potential in petrochemicals and electronics manufacturing sectors which have attracted investments of Rs.100,000 crore in past two years.
At the MIIW, Gujarat signed three MoUs with a French, Indian and Danish company for various projects. These are development of a marine application for off-shore platform at a cost of Rs.341 crore by France's Tar Kovas Systems, with Danish wind energy major Vestas India for a Rs.426 crore blade factory and another MoU with Ameya Information Ltd, Gujarat.