Mumbai– The fashion industry in India has done very well for itself with little or no help from the government, Commerce Minister Nirmala Sitharaman said here on Monday.
"The fashion industry in India has played a fantastic role in the past 20-25 years with little or no help from the government. In fact, the fashion industry moved much before the government moved towards globalisation," she said at 'The Global Design and Innovation Session: Branding India Globally' at Make in India Week here.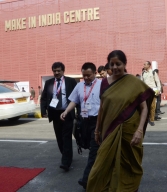 The minister said the fashion industry has played an excellent role in leveraging all that "our legacy has given us."
"Our fashion industry is a dynamic one which brings new things on board. So far, fashion has been far away from the government's trajectory. But now, the ministry is actively engaged in promoting fashion in the country," Sitharaman said.
She said the government should play the role of facilitator allowing the industry to bloom on its own and stay at an arm's length.
Emphasising the role of 'Make in India' as an important brand initiative by the government, Sitharaman said: "It was Prime Minister Narendra Modi's dream to simplify systems; to minimize compliance and initiate ease of business by removing difficulties.
"With these initiatives foreign direct investment progressively opened up and rules simplified. Technology has come into play and it has bolstered transparency. This initiative has also ensured an ecosystem for private enterprises to grow."
The minister said India is fast becoming a leading fashion market in the world and the industry is setting the trend in the world by bringing colour, vibrancy and flamboyance in a rather grey setting.
Secretary of Department of Industrial Policy and Promotion Amitabh Kant said a brand is what a brand did. "India's brand value must focus on innovation and design. Our aim is not only to make in India but also to innovate and design in India," he said.
"India offers outstanding product quality, creativity and style," said Patrick Thomas, former CEO, Hermes.
Ritu Beri, founder of The Luxury League, said: "Global design and innovation showcases the confluence of our strength of talent, capability and persuasiveness that gives our country a modern flavour in the midst of our mystified diversity."