MUMBAI–Key Indian stock indices fell sharply on Thursday, extending the losses for the fourth day with sentiments hit by global cues, notably from the other Asian markets. The poor results of core companies and banks added to the pressures.
The 30-scrip sensitive index (Sensex) of the Bombay Stock Exchange (BSE) fell as much as 807.07 points, or 3.40 percent, at 22,951.83 points, against the previous day's close at 23,758.90 points.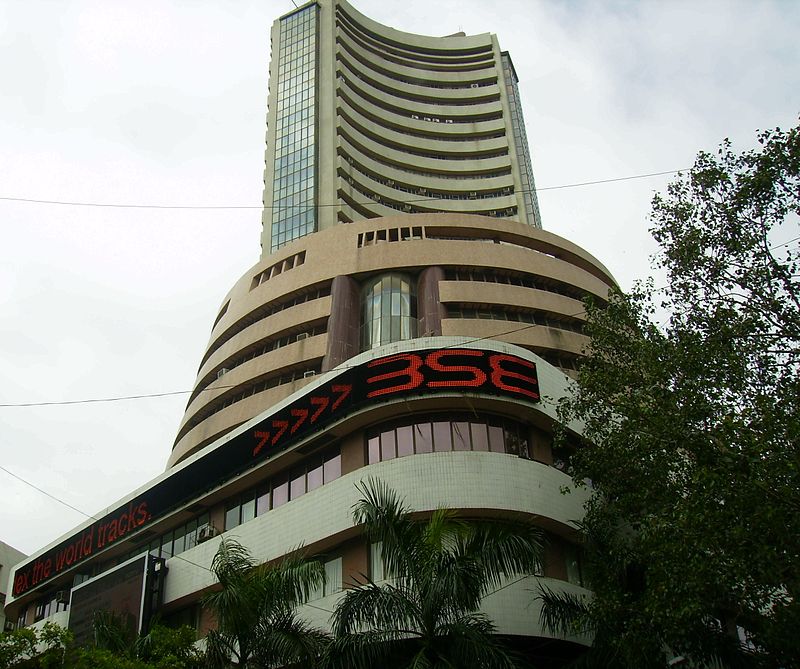 In the process, the barometer index not only hit another 52-week low, but also fell below the psychologically important 23,000-point mark. As many as 28 out of the 30 shares that go into the Sensex basket ended in the red.
During the intra-day trade, the Sensex touched a high of 23,758.46 points and a low of 22,909.12 points — its new low in 52 weeks.
Sensex closed the day's trade at its lowest levels since May 8, 2014.
The story was no different at the National Stock Exchange. The bourse's wider 50-share Nifty shed 239.35 points, or 3.32 percent, at 6,976.35 points. Among the 50 shares of this key index, 47 ended with losses and just three managed to stay afloat in the mayhem.
The NSE Nifty touched a new 52-week low at 6,959.95 points. Nifty ended the day's trade at lowest levels since May 9, 2014.
The Indian VIX (volatility index) ended higher by 15.58 percent, portending to sustained volatile trading sessions.
In the past four trading sessions, while the Sensex has lost 1,665.14 points, or 6.76 percent, the Nifty has lost 512.75 points, or 6.84 percent.
In the past four days, the market capitalisation of the BSE has plunged by 7.23 percent, with a notional loss of Rs.6,73,192 crore — from Rs.93,04,122 crore to 86,30,930 crore.
Initially, both bellwethers opened on a weak note, following a steep fall in Asian indices and Wednesday's decline in the US markets.
The selling pressure was accelerated by the absence of any fresh positive trigger and below expected third quarter (Q3) results by the likes of banking major, State Bank of India (SBI).
The decline of crude oil prices below $30 a barrel (one barrel is equal to 159 litres) kept sentiments subdued.
Investors' doubts over the central government's ability to perk up investments dragged the markets lower.
In addition, a weak rupee unnerved investors. It weakened by 46 paise to close at 68.30 to a US dollar from its previous close of 67.84 to a greenback.
"Rupee followed the emerging markets downward. Post Janet Yellen's neutral comments about the course of US monetary policy added fuel to already panic stricken market," Anindya Banerjee, associate vice president for currency derivatives with Kotak Securities, told IANS.
"Overvalued emerging markets like India, has now started cracking under weight of weak macros and mean reverting. RBI has been quite active today."
The weakness in rupee indicated a massive flight of foreign funds from the equity markets.
The foreign institutional investors (FIIs) were net sellers during the day's trade, while the domestic institutional investors (DIIs) bought stocks.
The data with stock exchanges showed that FIIs divested Rs.1,112.66 crore, while the DIIs' bought stocks worth Rs.1,222.12 crore.
Investors' confidence was further eroded by hawkish comments made by US Fed chairman Janet Yellen to the US House Financial Services Committee on late Wednesday.
During her semi-annual monetary policy testimony to the committee, Yellen said that the US is unlikely to go in for a stimulus and that the rate hike cycle will continue.
"Negative global indices, coupled with disappointing results and a weak rupee supported the panic selling. The slump in crude oil prices and Yellen's remarks yesterday added pressure on the markets," Anand James, co-head, technical research desk with Geojit BNP Paribas Financial Services, told IANS.
Vaibhav Agarwal, vice president and research head at Angel Broking, elaborated that markets witnessed a sharp sell off after European markets opened on a weak note led by global headwinds and declining crude prices.
"Selling pressure was witnessed across the board with an advance decline ratio of 1:12 on the NSE. With NPA issues troubling the banking sector, the weakness in the bankex, down 3.8 percent, added to the pressure," Agarwal explained.
"All sectoral indices closed in the red with sharp cuts in realty, power and materials. We expect markets to continue to react to global cues which at the moment remains weak."
Nitasha Shankar, vice president for research with YES Securities, cited that higher volumes portended to further weakness in the coming trading sessions.
"Broader markets saw huge sell-off ending with cuts of 5.5 percent and 4 percent — underperforming the headline indices. All sectoral indices ended lower with sharp cuts," Shankar noted.
"Indian VIX has hit 26 levels after breaking out of 22 resistance zone, suggesting persistent volatility in the coming trading sessions."
All sector-based indices of the BSE ended in the red.
The S&P BSE banking index plunged by 629.23 points, automobile index plummet by 571.38 points, capital goods index depleted by 429.24 points, healthcare index receded by 393.45 points and consumer durables index edged-lower by 429.24 points.
Major Sensex gainers during Thursday's trade were Cipla, up 0.40 percent at Rs.541 and Dr.Reddy's Lab, up 0.01 percent at Rs.2,887.
Major Sensex losers during the day's trade were Adani Ports, down 6.94 percent at Rs.188.50; BHEL, down 6.01 percent at Rs.120.35; Tata Motors, down 5.55 percent at Rs.275.65; ONGC, down 5.23 percent at Rs.202.80; and Mahindra and Mahindra, down 4.93 percent at Rs.1,126.