New Delhi–The union budget 2016-17, with the target of holding the next fiscal's deficit at 3.5 percent of GDP, has given space to the Reserve Bank of India (RBI) to ease interest rates, union Minister of State for Finance Jayant Sinha said on Thursday.
"Macroeconomic stability is fundamental to ensuring that monetary policy has space. If we don't provide that monetary policy space by generally a tighter fiscal policy, we cannot expect monetary policy to loosen up," he said at an event here organised by Indian Private Equity and Venture Capital Association.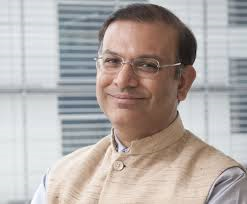 "So, that is the kind of environment we have tried to create on the macro side.
"There was fiscal consolidation, the current account deficit came down, inflation came down. As that happened, interest rate, which was very high over 10-12 percent, came down quite dramatically," he added.
Declaring that prudence lies in adhering to fiscal targets, Finance Minister Arun Jaitley, presenting the budget on Monday, retained the much-awaited figure of fiscal deficit for the current financial year at 3.9 percent of GDP, and at 3.5 percent for 2016-17 but added he had also ensured that the development agenda is not compromised.
The fiscal deficit for 2014-15 touched 4.1 percent of the GDP.
Meanwhile, India's services sector activity fell to a three-month low amidst subdued growth in new orders, key macro-economic data showed on Thursday.
The Nikkei Business Activity index fell to a three-month low of 51.4 in February, from 54.3 in January, adding to expectations of a rate cut by the RBI.
At its sixth and the fiscal's final bi-monthly monetary policy review last month, RBI kept its key lending rate unchanged at 6.75 percent.
"The Reserve Bank continues to be accommodative even as it leaves the policy rate unchanged in this review, while awaiting further data on inflation," Governor Raghuram Rajan said in his policy statement.
India's consumer price indexed (CPI), or retail, inflation has been rising. As per data released last month, annual retail inflation moved up further to 5.69 percent in January, from 5.61 percent in the month before.