New Delhi– Finance Minister Arun Jaitley said here on Thursday that jewellers will have to pay one percent excise duty on gold.
Jaitley said the duty is applicable only to the big industry players and the government will ensure there is no harassment.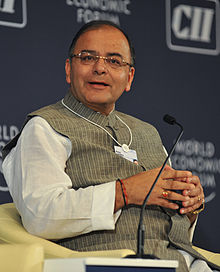 "Excise duty on gold jewellery will have to be paid, but the jewellers can suggest any other safeguard they want against harassment," Jaitley said in the Rajya Sabha.
He said the one percent excise duty is applicable only to jewellers with a turnover of Rs.12 crore and will not be applicable to small traders.
The jewellery traders across the country had struck work for six weeks to oppose the one percent levy of excise duty.
"The gold traders will file return the way they do, by self certification. There will be no physical checks for paying excise. Whatever the rate at which they are paying VAT (one percent), the same rate they have to pay excise duty," Jaitley said.
"I have told the trade bodies to bring to my notice if there is any harassment. CBEC (Central Board of Excise and Customs) has also informed the traders regarding the same," he added.
Speaking in the Upper House, Jaitley clarified that gold being a luxury item cannot be kept outside the tax net as the duty is necessary to maintain goods and services tax (GST) rate of 18 percent.
"We have to convince the country that luxury items cannot be kept outside the tax net. Else we will have to increase the duty on essential items to maintain 18 percent of GST," he said.
"If we are going towards GST, the first step is to put taxation on luxury item. No political party can demand to keep the luxury item outside tax net, and also maintain 18 percent taxation. Because it can never be achieved," he added.
Jaitley also said that the last date of registration for gold jewellers has been extended from March 31, 2015, to June 30, 2016.
"We have extended the date for registration by two months. By that time Lahiri committee report will also be out," he said. The government has constituted Ashok Lahiri sub-committee to study excise on jewellery.
Jaitley said the customs duty on gold is 10 percent currently, which cannot be increased further as it will lead to a rise in smuggling.
"Customs duty cannot be raised further. Service tax is not applicable on gold. So, what remains as an option is excise," he said.
Attacking the Congress for obstructing the passage of GST Bill in the parliament, Jaitley said: "It is a matter of time. As soon as Congress supports and GST comes into place, VAT and excise will be merged." (IANS)